NYFA Holds First In-Person Hall of Fame Benefit Gala Since 2019
NYFA Holds First In-Person Hall of Fame Benefit Gala Since 2019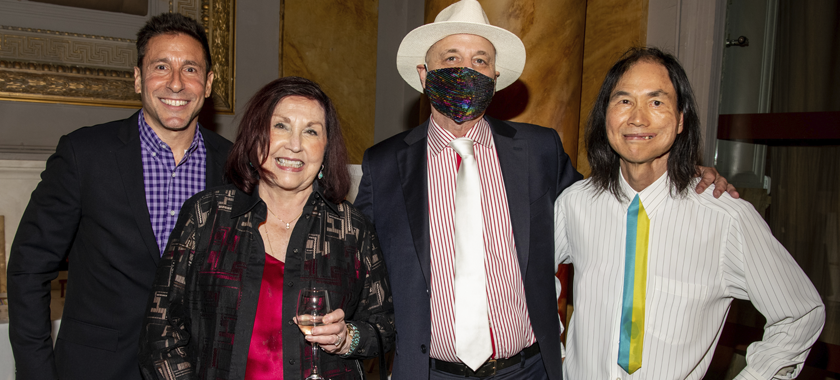 Image from Left: NYFA Board Chair Marc Jason, Kay WalkingStick, NYFA Executive Director Michael Royce, and Chin Chih Yang at NYFA's 2022 Hall of Fame Benefit, Photo Credit: Clint Spaulding
NYFA affiliated artists Kay WalkingStick and Chin Chih Yang were inducted into NYFA's Hall of Fame at vibrant spring gala.
After three years of no in-person Hall of Fame Benefit galas, the NYFA community was back in fine form to recognize artists who help make our world a better, more empathetic place. More than 200 guests gathered at Capitale in Manhattan on Thursday, April 7 to celebrate the profound impact of painter Kay WalkingStick (Fellow in Painting '92, Murray Reich Distinguished Artist Award '18) and multidisciplinary artist Chin Chih Yang (Fellow in Digital/Electronic Arts '11) on arts through their creative work. The evening's honorees were originally meant to have been honored at NYFA's cancelled 2020 Hall of Fame Benefit.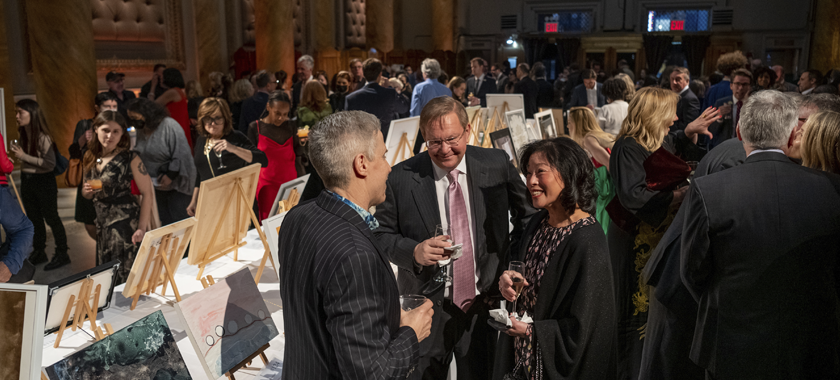 The event kicked off with a cocktail hour and silent art auction, with more than 70 extraordinary works up for bidding. Among those in attendance were Andres Serrano (Fellow in Photography '87, NYFA Hall of Fame '11); Martha Wilson (Fellow in Performance Art/Multidisciplinary Work '01); Samira Abbassy (Fellow in Printmaking/Drawing/Artists' Books 07, Painting '18), one of several artists at the event whose work was featured in the auction; NYFA Board Chair Marc Jason; NYFA Vice Board Chair J. Wesley McDade; and board members Lorin Gu, Judith K. Brodsky, Myrna Chao, Alexandra Chasin, Kim Estes McCarthy, and Sarah Young O'Donnell.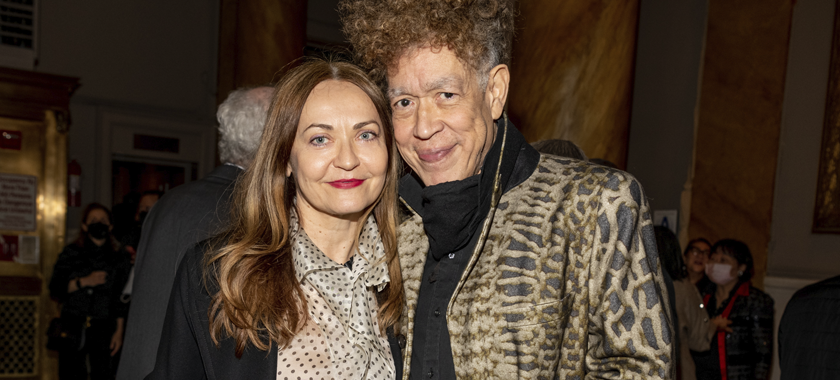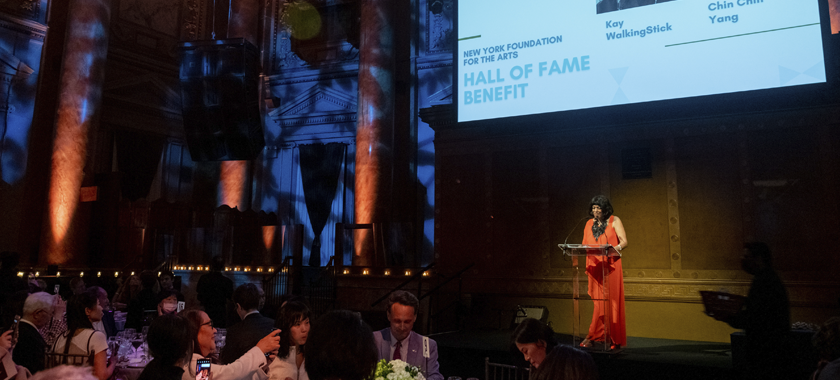 Actress, Writer, Radio Personality, and NYFA Board Member Angela Henry served as the night's MC. After a warm welcome, she introduced NYFA Board Chair Marc Jason. "It's been three years since our last benefit, and Chin Chih and Kay, I want to congratulate you both and thank you both for your patience. It's been a long time coming," he said.
Jason continued: "The thing I really love about NYFA, it's not about the buildings, it's not about the monuments, it's not even about works of art. NYFA is about people, it's about artists, artists who are striving to create work, to be seen and heard. Just trying to change the world and break through. NYFA is a support system for artists, that's what NYFA does."
It was acknowledged during the event that NYFA raised more than $20 million in emergency dollars that went to 6,000 artists during the pandemic, helping them pay for essentials like food, housing, and medical care, as well as project support. The event underscored that NYFA is more than Covid relief, highlighting NYFA's support of the arts and social justice, artists working in environmental art, artists with disabilities, and women-identifying artists.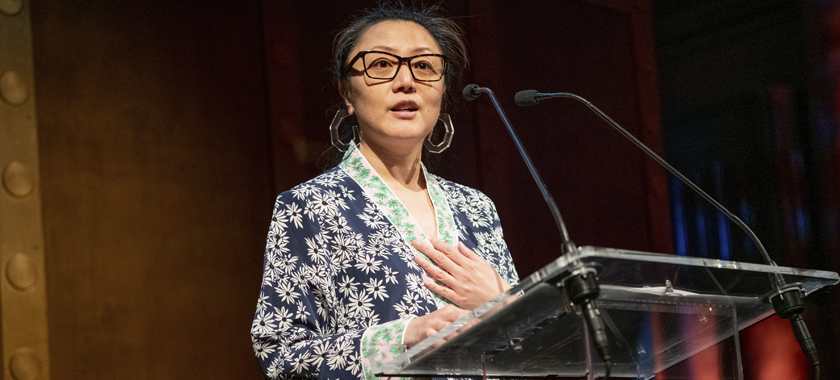 Later in the program, Fay Ku (Fellow in Printmaking/Drawing/Book Arts '09) addressed the crowd, beginning with the difference the NYSCA/NYFA Artist Fellowship made in her burgeoning arts career: "The award gave me a boost, it introduced me to curators, collectors, people became interested in my work," she said. She said the $7,000 grant gave her the time and space to continue to work creatively, and, more importantly, provided validation that what she was doing was valued by her peers.
Ku fast forwarded to early March 2020, a disorienting time for freelancers and a fearful time for people of Asian heritage. She spoke of feeling beyond terrified, and said the pandemic triggered feelings of being unwelcome, a subject of hostility, of being a target.
Around this time, she learned of the Anonymous Was A Woman Emergency Relief Grant, administered by NYFA. "Immediately, Anonymous Was A Woman, along with NYFA, anticipated so many artists would be effected by the pandemic. They mobilized to distribute smaller awards of up to $2,500 to as many people as they could. I applied, and both confirmation and the money itself was delivered within a breathtakingly short amount of time. Soon after that, other relief programs and assistance followed, but NYFA was first."
She emphasized how important that support was at that time. "Just like the first time I benefited from NYFA, it was about more than just the money. My fortitude slowly returned, and eventually I stopped being so frightened. I remember a sense of community behind me, and the grant was a way to tell me that I belonged, that I was important enough to be cared for, no matter how limited their resources. I know I was not the only one they helped. At the start of my career as an artist, NYFA's Fellowship really gave me the confidence to pursue my career as an artist. Most recently, it gave me relief in almost every sense of the word. A moment of empathy, understanding, and kindness in the darkest of times."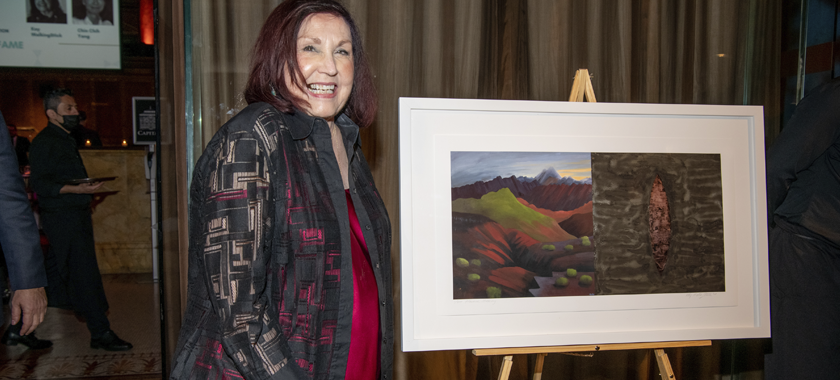 Jason and McDade, Vice Chair of the Board, introduced each honoree with a short video before inducting them into NYFA's Hall of Fame. WalkingStick, a citizen of the Cherokee Nation of Oklahoma of Cherokee/Anglo heritage, said "I'm very fortunate to have come into art-making a time when women were standing up for ourselves and saying 'this is our time, and we have a right to make art.' Once I got to college, I realized that I had to be a painter because I loved it so much. I became a landscape painter, because I want people to see that beauty, and to recognize that we live in this wonderful place that we are so fortunate to call our planet, our home. And that we must preserve it, that it's up to us to save this beautiful planet."
WalkingStick spoke of receiving her first NYFA grant in 1992, and how she used the money to buy all the supplies she needed to create her work. "For me, art is a way to understand our people, it's a way to understand our relationship to one another, it's a way we can make sense of our world, which very often doesn't make sense. Art also reminds us of the ineffable, the unknowable, the mythic in our lives that plays a role in human health, human evolutional health and mental health. This is what feeds our soul, it is who we are as humans."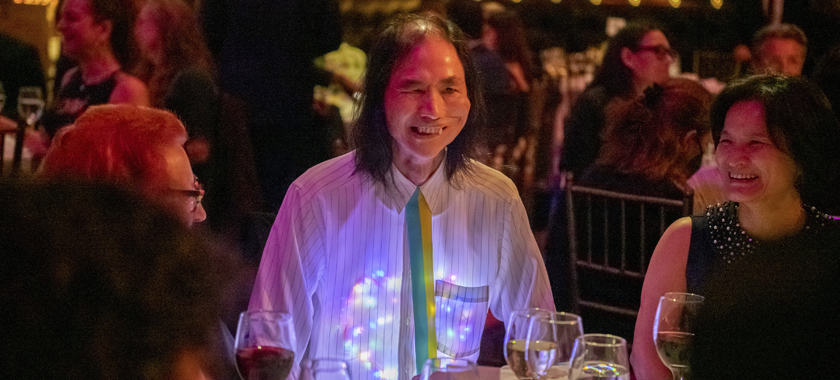 In his video, Yang spoke about what propels him as an artist: "As an artist, I pay attention to our society and natural earth, and what I can make people really able to take action. Not just see something beautiful, or nice song, nice voice, and that's it. Then finished. That's not enough for me." Yang underscored the importance of performance art in his practice and how he hopes it can inspire change and make people pay more attention. He said that his art is about "our life. It is to give our own heart to other people. Not just keep for ourselves."
Yang also spoke about how NYFA has helped him in his career, saying "Since I was a child, I was able to do whatever I love to do, and I'm here today. So that means I can make art all the time in my life, including for living. I'm surviving. And NYFA really helped. NYFA has so many workshops, I learned so much. And NYFA has a program I really love. Doctor's Hours program. I meet so many professionals: administrators, curators, writers. I meet so many all from NYFA's programs, so that's why I feel NYFA is important to me."
Yang gave a few short remarks after being inducted into the Hall of Fame, thanking his wife for allowing him to become an artist and telling guests to look out for his next project. "Let's move into the future with a bright heart," he said, as he flipped a switch to reveal a heart-shaped display of lights under his button down shirt.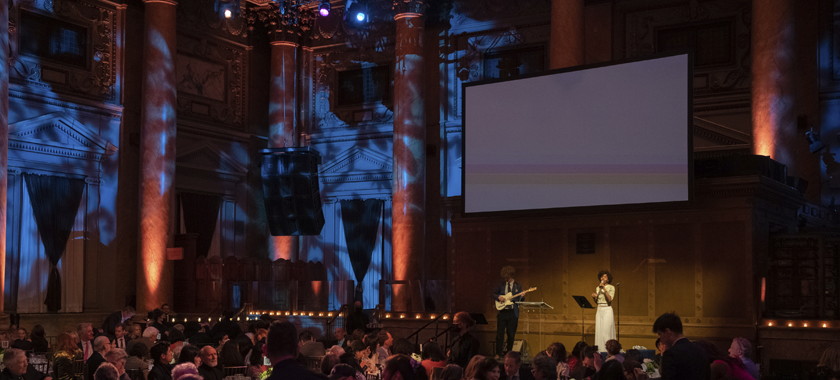 Following the award presentation, guests were treated to a performance by songwriter and American blues jazz singer Pyeng Threadgill (Fellow in Musical Composition '08).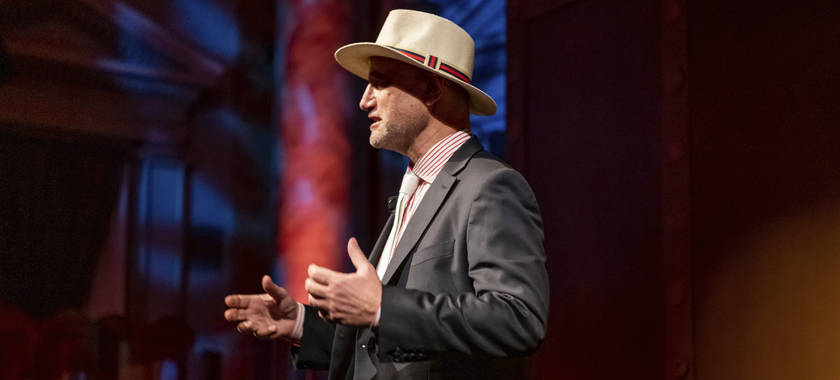 Michael Royce, Executive Director of NYFA, closed out the evening with impassioned remarks about the arts. "We not only honor the extraordinary, we also honor courage. The courage of the artist to take us, even when we don't want to go, through our fears, our misunderstanding, and our bias perceptions. They take us to a new place, a common ground, a place where we have self reflection. And if we're very lucky, even personal transformation. Now, Kay WalkingStick and Chin Chih Yang have been showing us their confrontational but compassionate truths for so many years. Thank you, Kay, and thank you, Chin Chih, for taking all of us on your journeys."
He continued: "Tonight is not just about the deserved celebration of Kay and Chin Chih, it's also about what communities can do when they collectively—and that's all of us—encounter a crisis in humanity…Thank you for your financial support, your time, your investment in our future, your feedback, and for standing by NYFA's mission."
Sign up for NYFA News and receive artist resources and upcoming events straight to your inbox.