An n Pale (Let's Talk)!: A Conversation with Régine M. Roumain
An n Pale (Let's Talk)!: A Conversation with Régine M. Roumain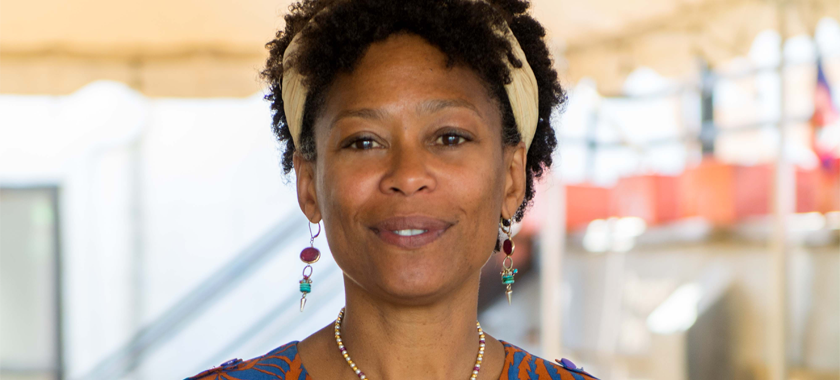 Régine M. Roumain, Photo Courtesy Régine M. Roumain
We speak with the Executive Director of Haiti Cultural Exchange (HCX) in the lead-up to Haitian Heritage Month.
To celebrate and honor Haitian Heritage Month we spoke with Régine M. Roumain, Executive Director, Haiti Cultural Exchange (HCX) to learn about her background and the work the organization does to support and celebrate Haitian arts and culture.
New York Foundation for the Arts (NYFA): Let's talk about your journey and how that has led to what you are doing now.
Régine M. Roumain: I began my arts administration career and my first full time job in a community and culturally-focused organization for Haitians in Flatbush, Brooklyn, supporting the community through organizing, citizenship, and anti-police brutality efforts. It was an eye-opening experience in so many ways and raised many questions for me about working authentically in and with community.
I went on to work in the nonprofit sector as an organizational consultant, where I learned about best practices in fundraising, board development, and planning. After that, I was hired by the New York Women's Foundation as a program officer for a number of years, managing their community organizing and economic development portfolio. As I went on site visits to amazing organizations with programs supporting women and girls, I came to the conclusion that I was missing the direct connection and interaction with my own community.
Around that time, I remember meeting Laurie Cumbo, the Founder of Mocada and our current NYC Commissioner of Cultural Affairs, and she strongly encouraged me to pursue my dream of founding an arts organization rooted in Haitian culture. Haiti Cultural Exchange was launched in 2009 by seven Haitian women to develop, present, and promote the cultural expressions of the Haitian people.
Our early program took place in venues throughout the city: the Brooklyn Public Library, Soho Gallery, Shapeshifter Lab, and so many others. In 2011, Kassandra Khalil, former program coordinator of HCX and current board member, and I were searching for program space and someone mentioned Five Myles Gallery. When we visited the gallery one day, we asked the director Hanne Tierney, "Can we do programming here?" She welcomed us with open arms. Six months later, I asked her, "Can we move here?" The answer again was yes!
Having a base to work and present from enabled HCX to establish regular programming, building an audience following who knew where to visit. What Five Myles Gallery provided was an important contribution towards the growth of the organization, especially with Crown Heights being a Haitian and Caribbean hub in Brooklyn.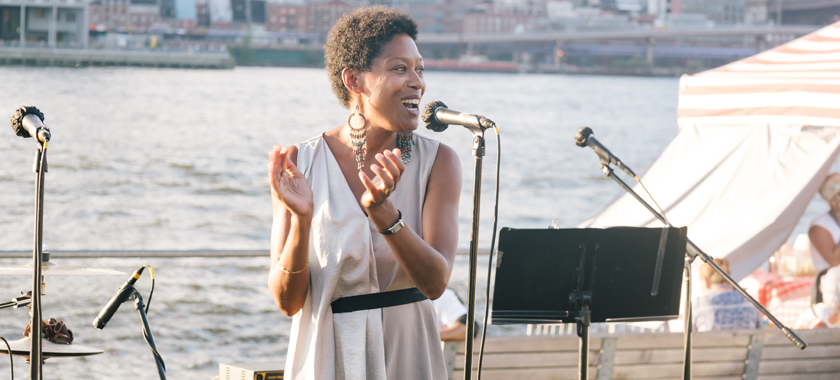 NYFA: What is your vision for Haiti Cultural Exchange? What are some projects that you are most proud of?
RR: In the long term, HCX is seeking to establish a dedicated and permanent Haiti Cultural Center to further its mission, to be a primary, authentic resource for presenting and preserving the culture of Haiti and the Diaspora. Now in our thirteenth year, while that is an ambitious goal, HCX and our board are united in working towards and achieving this vision.
One of my favorite projects is one of the first, An n Pale, where artists talk and present their work in an intimate setting. Initially supported by Humanities New York, over 50 artists have participated in this dialogue-based event, with themes based on issues artists are exploring. Audiences can ask questions, and know more about the artist as a person.
Another project is Haiti X New York (HXNY) that brings Haiti-based artists to New York to present their work to and engage with Diaspora and broader NYC audiences. This program speaks to the essence of HCX. Artists in Haiti continue to create and make art despite facing political, economic, and environmental upheaval. It's important that there be an organization that can support these efforts, create opportunities, partnerships, and a direct connection to the large Haitian Diaspora that resides in New York.
Haiti Film Fest, a biennial event, is a fan favorite as there is no other festival dedicated to Haiti filmmaking. After taking a hiatus because of COVID, the next edition is coming up in June 2022. Stay tuned for more details!
NYFA: What are some challenges that the artists you serve are experiencing? What advice or solutions do you find yourself offering? As someone who runs an arts organization, what do you find to be the most challenging aspect?
RR: Artists are facing multiple challenges and HCX offers support through opportunities, connecting our artists to other presenting partners. For example, HCX was part of Lincoln Center's ReStart Stages when we began programming again when NYC re-emerged from the pandemic.
Many of our artists face language barriers that prevent them from putting together materials that can take their career to the next level. Applications often require multiple narratives in addition to work samples that can prevent people from applying for critical support.
HCX often supports artists they work with by creating their bios and publicity materials which helps them for the next opportunity. I have at times translated materials from Creole to English, though that's not always possible, given capacity and time constraints.
As an organization, HCX's main challenges are related to capacity and fundraising to support our own programming. HCX, in normal times, will be doing monthly events and this requires staff and volunteers.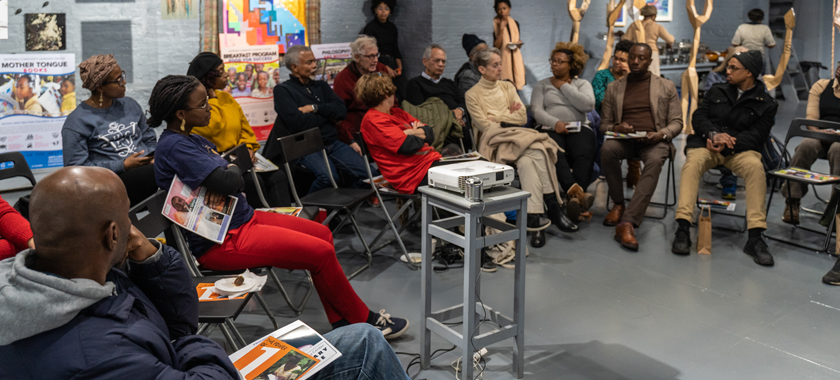 NYFA: You have many experiences working with artists of all disciplines and presenting contemporary and traditional work. Are there qualities that you appreciated within your working relationship or you felt were contributing to a successful collaboration?
RR: I love the artists HCX works with and they provide me with a strong connection to my own community, my culture, history, and heritage. It's a beautiful thing on a personal level. There is always great synergy with us. I appreciate open dialogue, transparency, and addressing any challenges in an open manner when they arise. Ultimately, all experiences are driven by the artist's vision and us valuing their craft, regardless of their discipline. It is very important for me to curate their work mindfully. This includes considering the venue and artist pairing to ensure the combination is a good fit.
I value partnerships that share responsibility. It's about all partners taking their roles seriously, valuing the time and effort it takes for an artist to create their work and what it takes the organization to present to the wider public.
Haiti Cultural Exchange is celebrating Haitian Heritage Month with a series of events. Find out more here!
About Régine M. Roumain:
Régine M. Roumain is the founder and Executive Director of Haiti Cultural Exchange (HCX). Established in 2009, HCX has developed programs designed to present Haitian culture to a broad audience, while supporting emerging and established artists, promoting cross-cultural exchanges, and encouraging dialogue around contemporary social issues. Roumain has over 20 years of experience in the nonprofit and philanthropic sectors, most recently as a Program Officer with the New York Women's Foundation, where she managed grant-making in two of the Foundation's largest portfolios: community organizing & advocacy and economic security. Over the past decade, Roumain has spearheaded the artistic vision of HCX, developing programs highlighting the cultural richness of Haitians; programs rooted in community, collaboration, and dialogue. Through her work with HCX, she has become a leading figure in the presentation of arts and cultural programs focused on Haiti and the Diaspora. Her efforts have been recognized by the Union Square Award for the Arts and the Haitian Roundtable. Roumain was born in Brooklyn, NY, where she currently resides with her family, and was raised between Port-au-Prince, Haiti and NYC. Roumain graduated from St. John's University with a Bachelor of Science degree in Communication Arts. She is fluent in French and Haitian Creole and travels frequently to Haiti to stay in touch with the pulse of contemporary arts and culture on the island.
–Interview conducted by Felicity Hogan, Director of NYFA Learning
This post is part of the ConEdison Immigrant Artist Program Newsletter #148. Subscribe to this free monthly e-mail for artist's features, opportunities, and events. Learn more about NYFA Immigrant Artist Mentoring Program.