Announcing | 2021 Tomorrowland Projects Foundation Awards $7,000 Grant to Danielle Dean
Announcing | 2021 Tomorrowland Projects Foundation Awards $7,000 Grant to Danielle Dean
Image: Danielle Dean (Tomorrowland Projects Foundation Award '21), Photo Courtesy of the Artist
Award administered by the New York Foundation for the Arts (NYFA).
The New York Foundation for the Arts (NYFA) is pleased to announce that Los Angeles and San Diego-based artist Danielle Dean was selected as the 2021 recipient of a $7,000 cash grant awarded through the Tomorrowland Projects Foundation.
Dean was selected by a panel of anonymous reviewers and approved by Tomorrowland Projects Foundation's Board of Directors for "Amazon," a collaborative multi-disciplinary project that will result in multiple works, the major ones being: (1) a video installation to be premiered in London at Tate Britain, and (2) a live performance for Performa 21 in New York, both to be shown in 2021.
The work originates from time Dean spent in the archives of the Ford Motor Company in Detroit, MI. There, she came across "Fordlândia," a rubber plantation founded by Henry Ford in 1928 in the heart of the Brazilian Amazon with the goal of controlling the production of raw material for his company's car tires. The Brazilian workforce had to abide Michigan-factory work hours in spite of the tropical climate and local botanical knowledge was dismissed. Eventually, workers rebelled, and the plantation became prey of tree blight. When the U.S. car manufacturer abandoned the settlement in 1934, they left behind a ruined ecosystem.
In 2021, Dean's team expanded its focus to the multinational tech company Amazon and its crowdsourcing marketplace, Amazon Mechanical Turk (AMT), where online crowdsourced laborers will restage historical events from Fordlândia. The ecocide and worker rebellions that occurred at Fordlândia are woven in with the personal narratives of contemporary AMT workers, considering the effects of extractive capitalism and the potential of solidarity in an otherwise isolated present and future.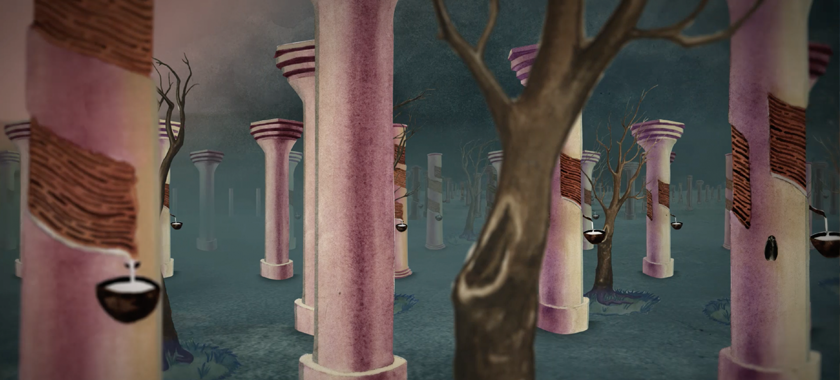 Tomorrowland Projects Foundation Board of Directors comprises Nina Yankowitz, President, Artist, New Media, Immersive Art Installations; David Becker, Vice President, Film Director, Documentary Producer, Fundraiser; Ian A. Holden, Vice President, Film Editor, Musician, Dancer, Digital Artist; Barry Holden, Treasurer, Architect & Installation Designer; Ellen K. Levy, Secretary, Art/Science Media, 'Designer of Art and Complex Systems;' and Jon Nazareth, Assistant Secretary, Artist, Painter, Digital Video Media.
"Tomorrowland Projects Foundation was created in 2016, and its award program is fortunately administered by NYFA. Our diligent board supports multidisciplinary artistic and scientific efforts that may use new electronic art/science media tools to reach new audiences for understanding important social and political issues," said Nina Yankowitz. "Through an Art/Sci lens it's possible to build a better tomorrow for large global communities. We also support qualified charitable organizations and educational institutions educating audiences on feminism, feminist history, and feminist ideology. Danielle Dean's work weaves a fabric of content reflecting Tomorrowland Project Foundation's interests, and we are very glad to support this exciting, innovative, endeavor," she added.
Michael L. Royce, Executive Director of NYFA, said: "We are thrilled to administer the Tomorrowland Projects Foundation grant on behalf of Nina Yankowitz and her board. This award helps move art forward, supporting artists like Danielle Dean whose work draws parallels between past and present in unexpected, compelling ways."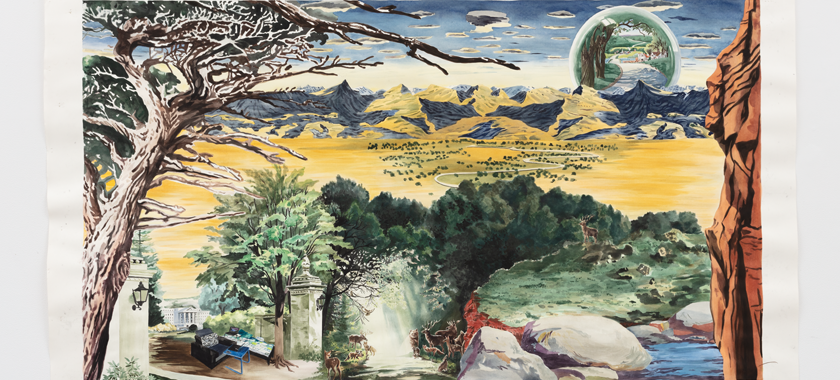 Dean makes work that explores the colonization of the mind and body through media and cultural production, engaging their relationship to capital accumulation. She is interested in the cultures of circulation produced by objects and people in a global context. Drawing on her own multinational background—born to a Nigerian father and an English mother in Alabama, and brought up in a working-class suburb of London—her work explores the ideological dimensions and material functions of technology, architecture, marketing techniques, and media as tools of subjection and oppression.
Dean is currently an Assistant Professor of Visual Art at UC San Diego. She is represented by 47 Canal, New York, and Commonwealth & Council, Los Angeles. Planned 2021 exhibitions include Art Now at Tate Britain, London; Amazon at Commonwealth & Council, Los Angeles; Amazon 2 at Performa 21, New York; and a permanent collection show at Stedelijk Museum, Amsterdam. Dean's work is included in the collections of Arts Council, UK; CC Foundation, Shanghai; Hammer Museum, Los Angeles; KADIST, San Francisco; Museum of Fine Arts, Houston; Stedelijk Museum, Amsterdam; and Whitney Museum of American Art, New York. Dean received an MFA degree from California Institute of the Arts in 2012 and a BFA degree from Central Saint Martins in London in 2006. She is a fellow of the Whitney Independent Study Program (2013) and Skowhegan School of Painting & Sculpture (2012), and a recipient of a Creative Capital Visual Arts award (2015).
Find out about additional awards and grants here. Sign up for our free bi-weekly newsletter NYFA News to receive announcements about future NYFA events and programs.