Apply Now | The Incubator for Executive Leaders of Color 2021
Apply Now | The Incubator for Executive Leaders of Color 2021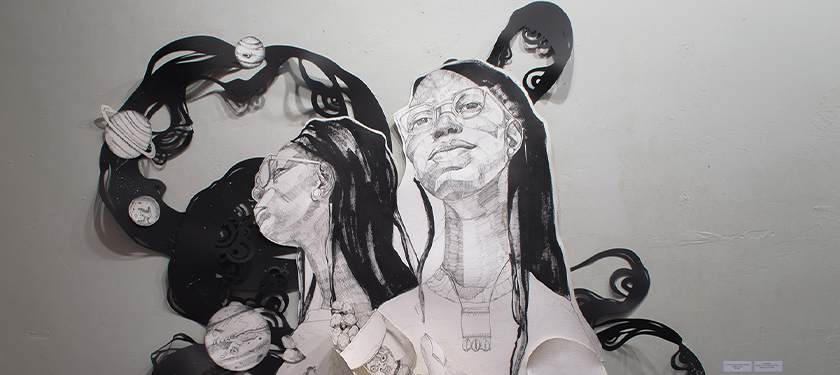 Image (detail): Komikka Patton (Fellow in Printmaking/Drawing/Book Arts '20), "Irin ajo la wa, ori gbe wa dele" (we are on a journey, may our heads lead us home); india ink, watercolor paper, Bristol, and acetate; Photo Credit: Cristina Ossers
Executive leaders of color from arts and cultural organizations based in the five boroughs of New York City are encouraged to apply by Thursday, March 18, 2021.
Through the support of the Rockefeller Brothers Fund, and designed with input from a group of alumni of NYFA's Emerging Leaders Program and participants of NYSCA Special Arts Services Technical Assistance programs, New York Foundation for the Arts (NYFA) is pleased to announce the first session of The Incubator for Executive Leaders of Color, an outgrowth of NYFA's Emerging Leaders program that served over 150 leaders since 2013. This free incubator will provide leadership training and community support for 16 arts administrators from April 2021 to October 2021. By fostering the professional development of leaders of color, we aim to encourage the sustainability and success of their organizations, and the equitability and diversity of the arts industry.
NYFA will work with facilitators from Black, Indigenous, and people of color (BIPOC) communities. The curriculum will be designed through the lens of inclusion and racial equity, and we will work diligently with partner organizations and external consultants to ensure that we meet the needs of our participants.
The goals of the program are:
To serve as an incubator for exploring new models and trends in Arts Administration in New York City.
Offer individual and group activities that focus on arts leadership and networking, thus leading to support and collaboration among participants and sparking new ideas.
Provide space to discuss issues specific to BIPOC leaders and move toward solutions.
Opportunity to engage with a variety of nationwide leaders in the arts.
Selected participants will benefit from:
A peer cohort-learning model that relies on shared experiences to explore and develop a greater awareness of your personal leadership style.
Case studies, guest speakers, panel discussions, and group exercises that focus on purpose-centered leadership, including diversity, equity, and inclusion; negotiation skills; and decision-making frameworks.
Peer-to-peer exchange and transferable resources that will further develop your organization in the long-term and better support the communities you serve.
Technical workshops and panels related to HR management, strategic planning, fundraising, and board development.
Access to NYFA's arts leadership programs' network and dedicated advisors for 6-8 hours of individual guidance and support.
Program Dates:
Mandatory Sessions:*
Intro meeting will be on Thursday, April 21, 10:00 AM – 12:30 PM EDT.
One-day intensives will be on Thursday, May 6, and Thursday, October 21, 10:00 AM – 4:00 PM EDT.
Monthly check-in meetings will take place on May 27, June 17, July 22, and September 9, 10:00 AM-11:30 AM EDT.
Online webinars will take place on July 8, August 26, and September 30, 10:00 AM – 11:30 AM EDT.
* Attendance is mandatory for all sessions, so please check your calendar before applying.
How to Apply:
Application Link: Click here to apply via Submittable
First-time users will need to register with Submittable to access the application portal.
Application Deadline: Thursday, March 18, 2021, 11:59 PM EST
Eligibility:
Self identify as a leader of color.
Executive Leaders from non-profit arts and cultural organizations with all size budgets.** (e.g. Executive Director, Artistic Director, Deputy Director, Program Director, Development Director, Finance Director)
Commitment to mandatory attendance to all sessions.
Open to participants from the five boroughs of New York City.
** We acknowledge there are different organizational models in New York City, so if you have any questions about eligibility, please contact us at [email protected].
Guidelines:
For the application, we ask you to provide:
Organization information (i.e. organization mission, focus, website, and operational budget).
Why you are interested in applying to this program and a list of goals relative to your leadership career path within the next 5+ years.
Your current role and responsibilities.
A particular challenge in your current organization that participating in this program could help you address.
A narrative bio of your professional career.
Contact details of a Board member or an Advisory committee member of your organization. ***
*** We will only contact them if you are selected for the program. This is to ask for their support for the time commitment involved.
Applications will be reviewed by alumni of NYFA's Emerging Leaders program and outside executive professionals.
Notification: Applicants will be notified on or before Thursday, April 8, 2021.
Questions? Contact NYFA and include "The Incubator for Executive Leaders of Color" in the subject line.
To request an accommodation or assistance in applying, please email [email protected]. We ask that requests for accommodation be made as soon as possible or by Wednesday, February 17 to allow adequate time for staff to support you in submitting an application before the deadline.
This program is made possible with the support of Rockefeller Brothers Fund, and was designed in partnership with a group of alumni of NYFA's Emerging Leaders Program and participants of NYSCA Special Arts Services Technical Assistance programs. We want to thank: Karesia Batan, Executive Director (ED) of The Physical Plant | Queensboro Dance Festival; Joanna Castro, Director of Programs of West Harlem Development Corporation; Donna Clark, ED of Alpha Omega Theatrical Dance Company; Jesus Hernandez, ED of Latin Reel; Greg Mays, ED of A Better Jamaica, Inc.; Ron Kavanaugh, ED of Literary Freedom Project; Clarivel Ruiz, Founder and ED of Dominicans Love Haitians Movement; Ran Yan, ED of Lewis Latimer House Museum; and Shelley V. Worrell, CEO of Caribbeing/Little Caribbean NYC.
This program is part of NYFA Learning, which includes professional development for artists and arts administrators. Sign up for NYFA's free bi-weekly newsletter to receive updates on future programs.