Business of Art | How to Monetize and Build Online Performance Projects
Business of Art | How to Monetize and Build Online Performance Projects
Image: Krista Martins, Photo Credit: Wini Lao
From content ideas to a breakdown of digital platforms and products, Krista Martins, dancer and founder of Wukkout!, walks you through the how-tos of monetizing your digital performance practice.
With 25 years of professional experience, Krista Martins has done it all in the dance and fitness industry. A former professor and contemporary dance performer who has graced many stages, including those of SummerStage and MTV Video Music Awards, Martins now runs her own on demand platform, Wukkout!. She also works as a business coach and mentor for dance, fitness, and creative professionals, helping them build their own online products to grow their own brands. She recently shared her knowledge and experience on how to make the most out of digital platforms as a performance artist at Dance/NYC 2021 Digital Symposium. Keep reading to learn more.
"[An online presence is] a unique opportunity to open yourself up to an entirely new audience."
Why Go Online?
First, being online gives you a chance to nurture existing relationships with your audience. Second, there's a whole new world out there that you can only access via the internet. A virtual presence knocks down geographical barriers to new patrons and donors. "[An online presence is] a unique opportunity to open yourself up to an entirely new audience," Martins reminds. Third "is that [being online is] a great source for a new stream of revenue."
Types of Digital Products
There are several products you can offer to monetize your practice as a performance artist. Here's a break-down listed by Martins, with pros and cons for each option:
SVOD: Subscription Video on Demand – When you charge your audience a monthly subscription fee so they can gain unlimited access to your content library. Martins recommends this option for those who "already have a large content library with performances, classes, or any time of archival footage." This is also the best option to generate consistent income and to help you gather data about your audience. The negative side of this option? It's time-sensitive and time-consuming, as you'll need to be constantly generating content (think performing, shooting, editing, etc.) and thinking of new ways to keep your audience engaged and renewing their subscriptions.
TVOD: Transaction Video on Demand – When your content library can be accessed via individual purchases or rentals. Martins recommends this option for those who have smaller content libraries and smaller audiences. This model is less time-consuming to maintain but it also generates a less predictable income, as users are not committed to a monthly membership. "Also, because of this transactional nature, your purchasers may be less invested in your work and in the brand as a whole," says Martins. 
PPV: Pay-Per-View Live Streaming – When you offer a live digital broadcast for a fee, which can only be accessed during the live streaming. The main pro of this option is the real-time interactions it allows. "It creates a sense of urgency for your audience to tune in and jump on it before they miss out," Martins says. PPV is also a great way to generate content that can be repurposed and re-shared through SVOD, TVOD, marketing, and social media. The main con of PPV? You're more open to experiencing tech issues. 
"People want to feel they know what it's like in your world. Share some of that world."
Content Options
Now that you know your product options, let's shift the conversation to the type of content to be shared. Martins divides them into seven groups:
Performances – "The number one type of content is your current dance work," she reminds. Previous recordings of past performances are also a great option to feed your SVOD and TVOD products. 
Rehearsal footage and behind-the-scenes content – "Share your journey. Let [your audience] into your world, know the highs, lows, ups, downs," Martins advises. This strategy is great to build a stronger connection with your audience, to make them feel truly invested in your practice.
Dance films – This is where you can let your creativity flow. "The world is your stage," Martins points out, but keep in mind this type of content requires a deeper knowledge of filming, editing, and audio techniques. 
Classes/Workshops – These are great options for live streaming and can help you foster a direct, personal connection with your audience. You can also record these classes and repurpose them into SVOD and TVOD products. For more predictable income, Martins encourages folks to build pre-paid bundles of classes. She also emphasizes that adding fitness instructions (and acquiring the proper certificates) to your skills is a great opportunity to widen your audience. "Now you're introducing new people to your world and can eventually shuffle them over to your dance work again because if they like you as a fitness instructor, they will want to see the other things you're involved with also," she says. 
Interviews – "Interview other choreographers, interview the musicians, the dance artists, the producers, anyone involved behind the scenes," Martins recommends. She adds: "People want to feel they know what it's like in your world. Share some of that world."
Q&A Sessions – This where you build and engage your community. "You want people to know that you are there, that you are present, that you are supportive," Martins reminds.
Teasers and Trailers – These will be free content to be shared on your site or social media channels so folks can make an informed decision about what they're buying.
One last thing to consider when preparing your content is to make sure you have the distribution rights and music rights for everything you're hosting online. Martins strongly recommends that artists chat with a legal team to make sure they have all the permissions they need.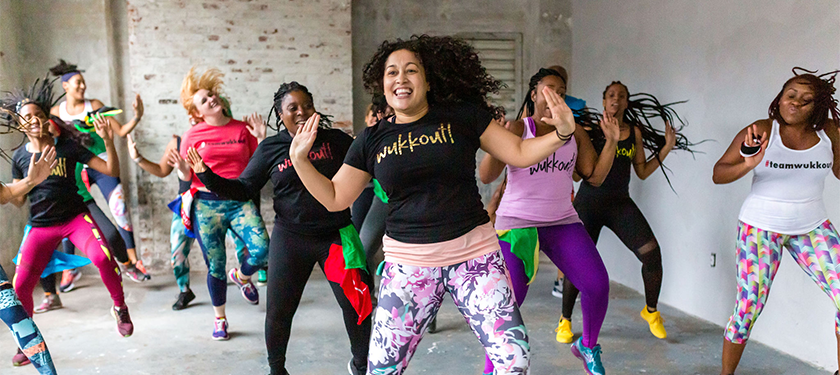 Platform Hosting Options
The next step is to choose where all this content will live. Martins offers three suggestions, but there are many more out there—do your research!
Vimeo OTT – This is Martins' personal favorite and a great option for those who are not tech-savvy and are looking for a budget-friendly platform. It also works with subscription, transactional, and live streaming options, and is available and accessible on all types of devices.
Kajabi – Not as user-friendly and at a higher price-point, the pros of Kajabi are its all-in-one nature, offering resources like website hosting, forums, and email marketing. Martins recommends this option for those who are focused on subscription-based products.
Your own website – This might seem like the obvious best solution and the most cost-effective, but it's by far the one that will require more work. You'll likely need external video hosting and a good deal of tech knowledge. The plus side? All of your content will live in one place, bringing users directly to your site. 
"Just because it is online does not mean the value of your work, of what you're giving them, has decreased."
Consider Your Current Resources
Before embarking on this journey, Martins has one question for you: "What is your personal bandwidth?" As with all new projects, this one will be time-consuming. Are you already tech-savvy? If not, do you have the time (and energy!) to acquire news skills right now? Will you need to make financial investments, like buying new lights and new, better cameras? Is your internet connection reliable? The purpose of this mini-questionnaire is not to discourage you but to make sure you set goals that are achievable. A good way to begin your planning is to gauge the interest of your current audience. Martins recommends: "Do your market research and use social media polls to find out what they are looking for and what they engage with the most."
Market research also means pricing research. "What is the typical rate for the type of artist you are, for the company or product? How much content are you including within the pricing model? What does your audience pay in person?" are questions Martins advises you ask yourself before diving in. And yes, you should base your online rate of pay on your in-person rate of pay. "Just because it is online does not mean the value of your work, of what you're giving them, has decreased. If anything, the value has increased because they can now continue to view the performance or content for a longer period of time," Martins highlights. 
– Compiled by Luiza Teixeira-Vesey, Designer/Marketing Officer
This article draws tips from "Monetization and Building Online Projects," a presentation given by Krista Martins, Founder of Wukkout, at the Dance/NYC 2021 Digital Symposium. Sign up for NYFA's free bi-weekly newsletter to learn first about our programs. ou can find more articles on arts career topics by visiting the Business of Art section of NYFA's website.