Conversations | Artist Angeline Gragasin on the Art of Resiliency
Conversations | Artist Angeline Gragasin on the Art of Resiliency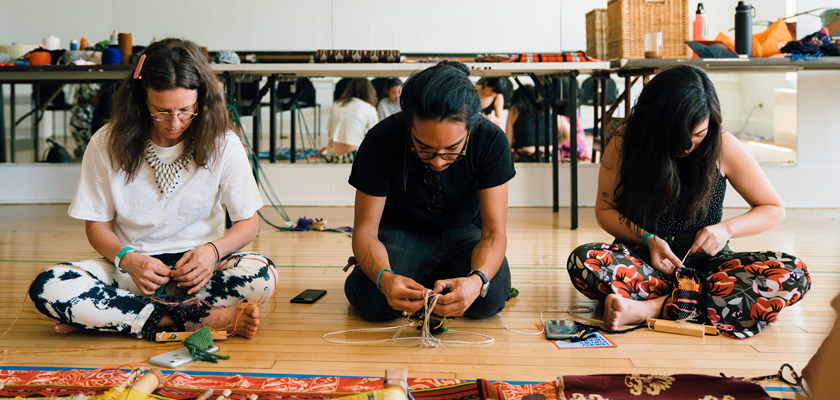 Image: Students in Cynthia Alberto's "Backstrap Weaving in Asia" workshop, Photo Credit: Janice Chung
How the COVID-19 pandemic forced Gragasin to rethink her creative project, making it more sustainable in the long-term.
Artists are known for their resiliency and creative problem-solving, thinking on their feet and adjusting to meet challenges big and small each and every day. The pandemic put even greater stresses on the artistic community—testing resolves and forcing new approaches to creative work.
We recently spoke with Project Directors from three Fiscally Sponsored projects to learn about their work, how they were impacted by the pandemic, and how they emerged from a tumultuous year with more tools and knowledge for success in their creative endeavors.
Part one of this series focuses on Angeline Gragasin's Happy Family Night Market, which celebrates the Asian diaspora and deepens cross-cultural exchange through food, art, and education. Happy Family challenges colonial notions of Asia by supporting emerging Asian American Pacific Islander (AAPI) food, arts, and cultural workers—primarily through their annual festival, which draws more than 3,500 attendees. In 2020, they launched a radio show and cookbook, and grew their online community to 4,000 members.
NYFA: What was your original intention or vision for your project, and how did it change during the pandemic?
Angeline Gragasin: Happy Family Night Market is a small artist-run organization that produces a one-night-only annual pan-Asian cultural and culinary festival that draws more than 2,000 attendees over the course of 12 hours. At the outbreak of the pandemic, we'd only been in operation a little over 18 months, had produced two festivals, and were planning our third. The crisis completely upended our business model, disrupted our strategic plan, and eliminated 100% of our projected revenue for Fiscal Year 2020. We were forced to confront the fact that our business was unsustainable and therefore inequitable. We had to radically reimagine the future of Happy Family Night Market if we were to survive the pandemic and return again.
The pandemic shutdown forced us to postpone our annual festival indefinitely. As a result, we shifted our focus to social media engagement and digital programming—two areas we'd neglected prior to the pandemic, but finally had time to develop now that the relentless and demanding festival production cycle was on hold. Moreover, we've been able to focus on developing more robust operations on the whole—such as building capacity, streamlining workflows, and developing new revenue streams—all of which are necessary in order to strengthen and grow our organization.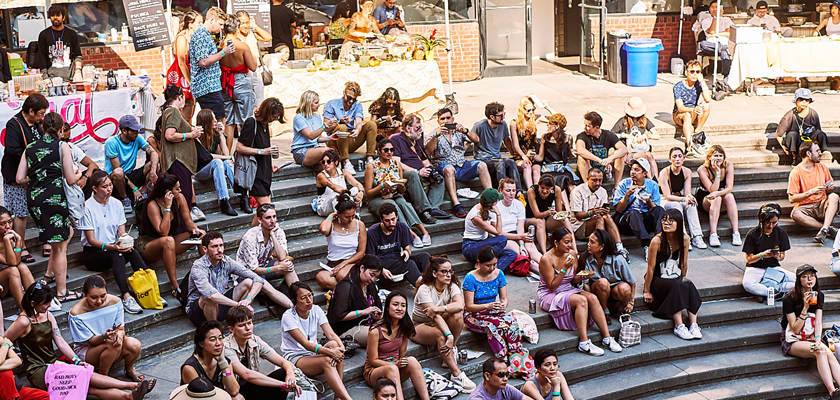 NYFA: Did you learn of any new platforms or technologies that helped you to adapt? Is there anything in particular that you did (or did not do) that helped your project survive into 2021?
AG: As Happy Family's founder, the biggest change I've made to survive the pandemic is that I've committed to transitioning the company from a single-owner LLC to a multi-stakeholder cooperative enterprise, owned and managed by the community. I'm an artist first and an entrepreneur second. As an accidental founder of a successful startup, I'd struggled with imagining an "exit strategy" for myself that was in alignment with my values, and ensured the project could continue without me in a way that was equitable and sustainable. 
It wasn't until the pandemic forced me into a moment of true crisis that I was able to think more creatively about how to grow and nurture a business with the same level of care or intention as an artist would an art project. I've come to embrace the business as an extension of my artistic practice, and as a result, have become more empowered to ask bigger questions and take greater risks as a creative entrepreneur in a post-capitalist future.
"It wasn't until the pandemic forced me into a moment of true crisis that I was able to think more creatively about how to grow and nurture a business with the same level of care or intention as an artist would an art project."
Happy Family Night Market has since become a member of the U.S. Federation of Worker Cooperatives and the NYC Network of Worker Cooperatives. We are an alum and co-organizer of Exit To Community (E2C), a peer learning cohort for startup founders building community-led organizations. We are grateful to be in community with other co-op founders who share our values and whose generosity and guidance have helped us adapt and grow.
Additionally, we were recently highlighted in Solidarity Not Charity, a groundbreaking new report that demonstrates how grantmakers can transform the cultural sector by following the lead of BIPOC, disabled, Queer, Trans, and working class creatives who are innovating models for self-determination and community wealth. As a result, we were invited to co-create a virtual "co-op school" for arts and cultural workers, in partnership with artist-researcher-educators Caroline Woolard (NYFA Arts Business Incubator '17), Dan Taeyoung, and other leaders in the arts and cultural sector of the global solidarity economy.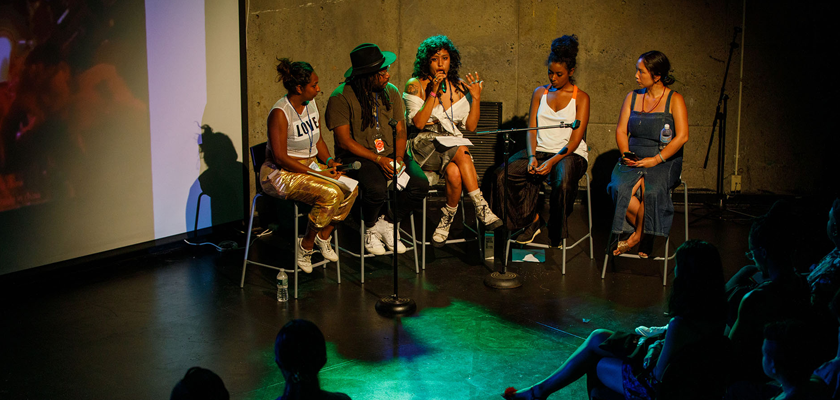 NYFA: What does the future look like for your project? Do you have any events on the horizon that we can share with our audience?
AG: If you're interested in co-creating the Happy Family Cooperative with us, now's the time to get on board! We're always seeking new volunteers and collaborators, and this fall, we're launching an internship program at The New School as well as partnering with Parson's Integrated Design Program to launch a co-curricular program that explores how to amplify under-represented voices at our annual festival.
If you're an AAPI food, artist, or cultural worker interested in participating, be sure to sign up for Happy Family's newsletter, follow us on Instagram, or write to me at [email protected] to introduce yourself and share a bit about you and your work. We're also always running an open call for mixtapes for our radio show, and recipes for our cookbook. There are many ways to get involved!
– Amy Aronoff, Senior Communications Officer
NYFA Fiscal Sponsorship's quarterly no-fee application deadlines are June 30, September 30, December 31, and March 31. We also accept Out-of-Cycle Review applications year-round. Reach out to us at [email protected] for more information.
Sign up for NYFA News and receive artist resources and upcoming events straight to your inbox.