Conversations | Eunbi Kim on How to Break Through in Classical, Jazz, and Contemporary Music
Conversations | Eunbi Kim on How to Break Through in Classical, Jazz, and Contemporary Music
Image: Eunbi Kim at Korean Cultural Center NY, Open Stage 2015-16, Photo Credit: Karjaka Studios
Kim, a renowned concert pianist and NYFA Board Member, gives advice to women in the field and encourages a "no rules" approach to defining and achieving career success.
NYFA Board Member Eunbi Kim is creating new ways of experiencing concert music as a performer, speaker, and arts advocate. Through these avenues, Kim shapes the concert experience on and off the stage by seeking interdisciplinary collaborations, commissioning new works, and providing mentorship for women in music through her nonprofit arts service organization, bespoken.
For her efforts, Kim has received international recognition on television and in print, including from the BBC, I Care If You Listen, the Houston Chronicle, The Japan Times, and NHK Television. Her 2017 TEDx talk, "Performing Through Fear," discusses conquering performance anxiety through learning to trust.
We spoke with Kim about how women musicians can make their voices heard, breaking down barriers and creating their own definitions of success while staying true to themselves.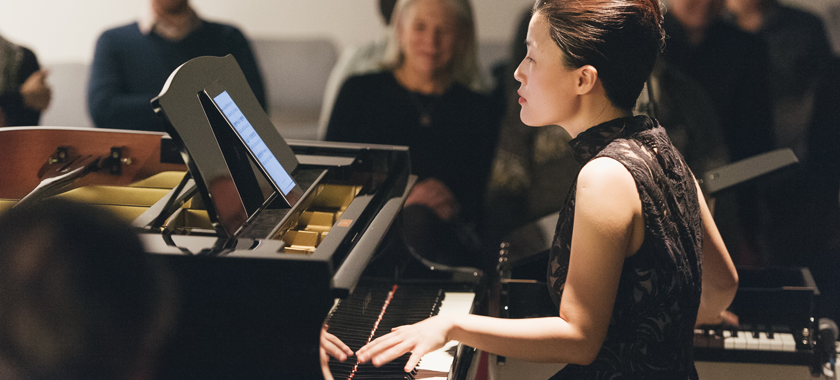 NYFA: Your mentorship program, bespoken, which you co-founded with Gina Izzo, was created for women in Classical, Contemporary, and Jazz music. What is the most common question you field from women in the field, and what are your answers?
Eunbi Kim: One of the most common questions I get from women is how to navigate a particular situation without making anybody mad at them but still wanting their voices to be heard. Women are taught from a young age to be "nice," and that can translate to prioritizing other people's comfort over their own or risk being unfairly judged.
My advice is a little different per situation, but I find that talking through the conflict with a trusted person and then practicing out loud together what the conversation would ideally sound like is really helpful.
NYFA: Being an artist, being a musician, involves so much more than just the art itself. bespoken acknowledges this and the need of many for professional development in areas including marketing, branding, fundraising, creative project development, and more. For someone who is feeling overwhelmed by all of this, what advice might you give?
EK: Make a list of all the steps you need to take and commit to just doing the first step. If you commit to taking small steps consistently, they really do add up over time. The biggest barrier for most people is the need for everything to be exactly the way they want it, but that ideal for perfection often stirs a lot of anxiety and stops people from even starting, so the most important thing when you're feeling overwhelmed is to just start and trust the process.
"If you commit to taking small steps consistently, they really do add up over time."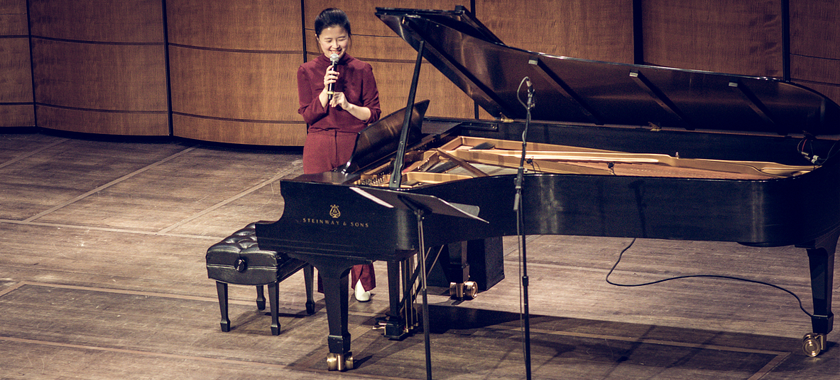 NYFA: You've had great success in your career. Can you pinpoint the moment (or moments) when you broke through from an up-and-coming artist to one that had "made it." How would you personally define "making it" in Classical, Contemporary, or Jazz music—or is it a continuous process of creating and striving? What key factors does it take to be successful in this industry?
EK: My bar for "making it" keeps getting higher and higher, so I definitely would agree that it's a continuous process of creating and striving but at the same time, I think the idea of "making it" is too nebulous to have as an ultimate goal. Instead, I prefer to think of success as looking different for each person. I personally define success as being happy and proud of the work that I've done and the impact that I've made.
In school, we're rewarded for being like everyone else. But to be successful as an artist, you need to have courage and vulnerability to just be yourself and express what only you can express.
"I personally define success as being happy and proud of the work that I've done and the impact that I've made."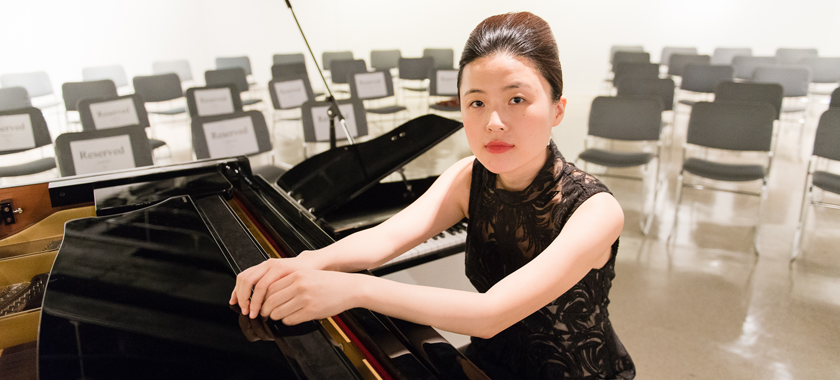 NYFA: Collaboration plays an important role in your career. Can you speak more about what drives you towards collaborating with others and why it's important for moving music—and the way we experience music—forward?
EK: We can collectively move music forward by stepping outside of our comfort zones, and I choose to collaborate with people who challenge and inspire me and provide an opportunity to engage and think differently about music. Additionally, collaboration gives me an outlet to pursue other interests and curiosities outside of music and the music that I was taught to play, and it's led to me to figure out that what I enjoy most as an artist is introducing new ideas into the world through music, performance, and leadership.
NYFA: Any other thoughts or advice to share with emerging musicians and composers?
EK: At any given moment, you can decide who you want to be and what you want from your life. There are no rules to what you should do or who you should be as long as you stay true and kind to yourself and others.
– Amy Aronoff, Senior Communications Officer
You can find more articles on arts career topics by visiting the Business of Art section of NYFA's website. Sign up for NYFA News and receive artist resources and upcoming events straight to your inbox. Have an arts career question? You can contact NYFA staff directly by emailing [email protected].