Conversations | Shayok Misha Chowdhury
Conversations | Shayok Misha Chowdhury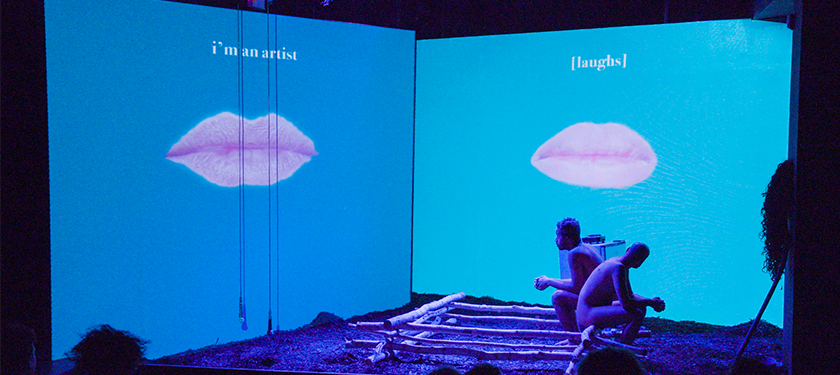 Image: Shayok Misha Chowdhury and Kameron Neal in "MukhAgni," Photo Credit: Ben Katz
"I have mixed feelings about the internet, but it's allowed my work to reach folks it never would have prior—Desi queers in Singapore and Vancouver and Jabalpur. And that makes me happy."
The pandemic has been hard on artists across disciplines, but theatre artists in particular have had to radically reimagine their practice outside of the traditional, intimate, live theatre setting. NYFA spoke with writer and director Shayok Misha Chowdhury (Fellow in Poetry '20) about how his art has been transformed by the moment, as well as how he sees outdoor art playing a role in what is possible for in-person arts events right now.
NYFA: What kinds of shifts have there been in your work as a theatre artist this past year, and how have you pushed through them?
Shayok Misha Chowdhury: At the start of 2020, my partner Kameron Neal (Fellow in Digital/Electronic Arts '20) and I were thinking about touring our performance memoir, MukhAgni; my collaborators at Lightning Rod Special and I were planning a workshop of our piece SPEECH at Philly Fringe; I was directing my friend Mashuq Deen's play The Shaking Earth at the Criminal Queerness Festival. And then, of course, the pandemic did away with all our best-laid plans. The year since has been a litany of unexpected—and unexpectedly fruitful—pivots. When I was first asked to make something for the online space back in June, I asked myself: what would I actually want to tune into? I thought it was going to be a one-off. But in collaboration with Kameron, who's a video artist, and sound designer Jeremy Bloom, I stumbled upon a really exciting form. So it turned into an ongoing series of audiovisual experiments called VICHITRA. We released four pieces in our first season, and they're honestly some of my favorite things I've ever made, which is wild, because prior to last year, my work lived entirely on stage and on the page, never on screen. And I learned so much in making them! I learned about new fluencies and aesthetic vocabularies, which I'm able to bring to other projects. 
I'm collaborating with Aleshea Harris right now on a piece of illustrated audio theatre called Brother, Brother, which will premiere in New York Theatre Workshop's virtual season. We're working with an illustrator in India, and an animator in Taiwan, and when I'm on a Zoom design meeting at 11:30 PM, I can't help but think, well, here's a delightful thing I never would've been doing in 2019.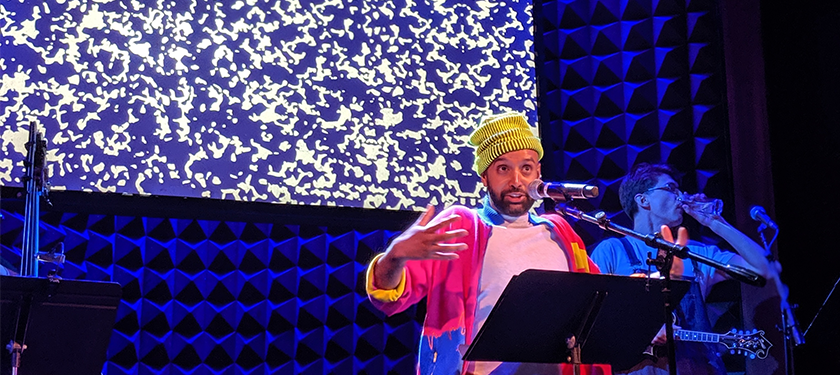 NYFA: You've recently been hired as part of Soho Rep. Project Number One. What do you hope to make of this opportunity, and what should other arts institutions and organizations be doing to better support artists during this pandemic and beyond?
SMC: I don't think I can overstate how blessed I feel to have Soho Rep supporting me this year. For them to say: "Here's a salary and a budget, and in exchange, we want you to make what you want to make"—it's been a total game-changer. It's made me realize how much of my energy is usually spent thinking about securing funding, always reaching for what's next, and how little energy I have leftover to sit down and write. This year, with the gift of time Soho Rep's given me, I'm writing a play that's been brewing in me for over a decade. It's a bilingual play, called Public Obscenities, in Bengali and English, inspired by a dream my uncle once had. In the dream, he was in a movie theatre. And he described the movie to me in meticulous detail. And then he said: you're the artist, go make it.
The arts are woefully underfunded in the United States, and I have huge respect for those helming arts organizations through this precarious time. I don't envy them. I'm enormously grateful to the institutions supporting me this year—Soho Rep in particular, and also HERE Arts, New York Stage and Film, The Bushwick Starr, Ars Nova, New York Theatre Workshop, Joe's Pub, the Jerome Foundation, and of course NYFA and NYSCA. In my experience, these folks are navigating this moment with a lot of grace, thinking generously and strategically about how to support artists. They are leading by example, and I hope others will follow their lead.
NYFA: Open Culture will expand the possibilities for in-person art in New York City. Do you have prior experience with creating art outdoors? How might this program impact the theatre?
SMC: A decade ago, I worked on a piece up at Barn Arts Collective, on this tidal inlet up on Mount Desert Island (MDI) in Maine. I had to launch a kayak into rushing water, in darkness, and row in from the ocean, singing a Bengali boatman song. That was my entrance. I lost my sneakers in the mud. I've always loved making work that responds to an actual place. I collaborated with my partner Kameron Neal on his large-scale projection piece Groundwater Vol. I & II at the Digital Graffiti Festival. In August, I'll be sharing a work-in-process on Little Island. It's a project called Rheology, about the physics of sand. 
As winter comes to an end, I'm hoping Open Culture will allow us to step outdoors and make some innovative, site-specific work.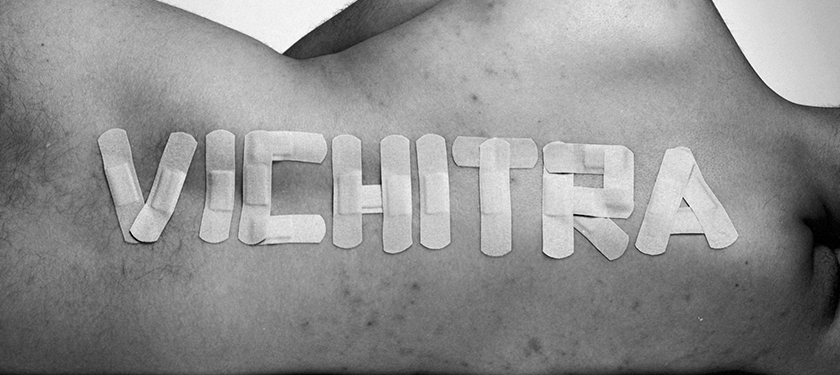 NYFA: What advice would you offer to theatre artists trying to keep engaging with audiences through a time of social distance?
SMC: I don't have any wisdom, but I can say this moment's allowed me to think differently about my audience, which is usually a small circle of humans in New York City. I have mixed feelings about the internet, but it's allowed my work to reach folks it never would have prior—Desi queers in Singapore and Vancouver and Jabalpur. And that makes me happy.
About Shayok Misha Chowdhury:
Chowdhury is a many-tentacled writer and director, working in theatre, video, audio, music, and poetry. He is the creator of VICHITRA, an ongoing experiment in queer South Asian imagination. Currently a "Project Number One Artist" at Soho Rep, a "NEXUS Artist" at New York Stage and Film, and a resident artist at HERE Arts Center, Chowdhury is also an alumnus of New York Theatre Workshop's 2050 Fellowship, The Public Theater's Devised Theater Working Group, Ars Nova's Makers Lab, and Soho Rep's Writer/Director Lab. Upcoming: Brother, Brother (New York Theatre Workshop) with Aleshea Harris. Recent: MukhAgni (Under the Radar); The Other Other (Ars Nova); How the White Girl Got Her Spots and Other 90s Trivia (Joe's Pub); In Order to Become (Bushwick Starr); Englandbashi (HERE Arts). In progress: SPEECH (Playwrights Horizons) with Lightning Rod Special; Public Obscenities (Soho Rep). Chowdhury's work has also been presented and supported by the Jerome Foundation, SPACE on Ryder Farm, BRIC, the Drama League, New Orleans Film Festival, Detroit Art Week, the Foundation for Contemporary Arts, NYSCA/NYFA, Fulbright, and Kundiman. He was a collaborator on the Grammy-winning album Calling All Dawns and has been published in The Cincinnati Review, TriQuarterly, Hayden's Ferry Review, Asian American Literary Review, and elsewhere. He received an MFA degree from Columbia.
– Kyle Lopez, Program Associate
This post is part of the ConEdison Immigrant Artist Program Newsletter #137. Subscribe to this free monthly e-mail for artist's features, opportunities, and events. Learn more about NYFA Immigrant Artist Mentoring Program.