Conversations | STONELEAF RETREAT
Conversations | STONELEAF RETREAT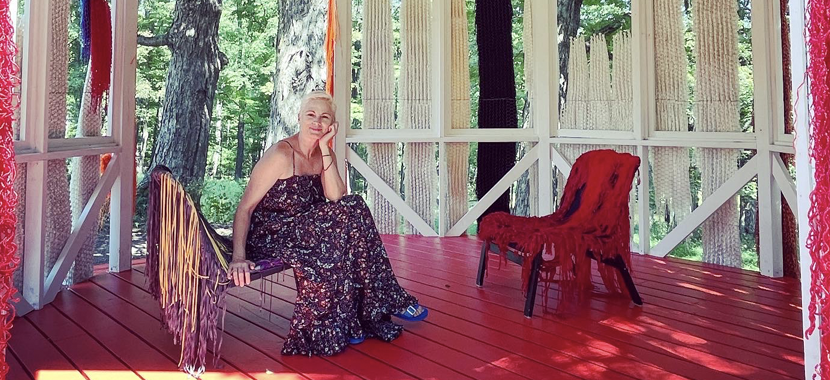 Image Detail: Helen Toomer in Liz Collins' "CRONEY" at STONELEAF RETREAT, Photo Courtesy: STONELEAF RETREAT
We spoke with STONELEAF Co-Founder Helen Toomer about the Fiscally Sponsored artist residency and creative space for womxn and families.
In our second post about artists building community, we interviewed Helen Toomer of STONELEAF RETREAT RESIDENCY about her work organizing opportunities for artists to make and share their work. STONELEAF, a project in NYFA's Fiscal Sponsorship program, is an artist residency and creative space for womxn and families nestled in the Catskill Mountains. The project was founded in 2017 by Toomer and Eric Romano; Toomer is also the founder of UPSTATE ART WEEKEND.

Click here to read part 1 in the series, our conversation with Art on the Avenue co-founder Barbara Anderson. See our full interview with Toomer below.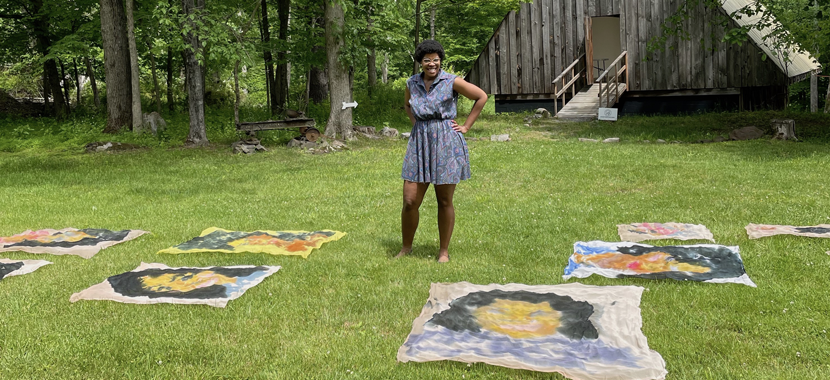 NYFA: What does it mean to be a creator/organizer who is working with the community?
Helen Toomer: It means a lot, as working with artists and the community brings joy, meaningful connections, and empowerment.
NYFA: Your work organizing STONELEAF RETREAT is important for creating an arts ecosystem because it provides time and space for artists. How do you go about connecting with the artists that you want to participate in your programs?
HT: Our residencies are offered through an open call application process and we also invite our alumnae to come back to spend more time here and create projects on the land or temporary exhibitions. I see our alumnae as an extension of our family and we are so proud that STONELEAF is part of their lives.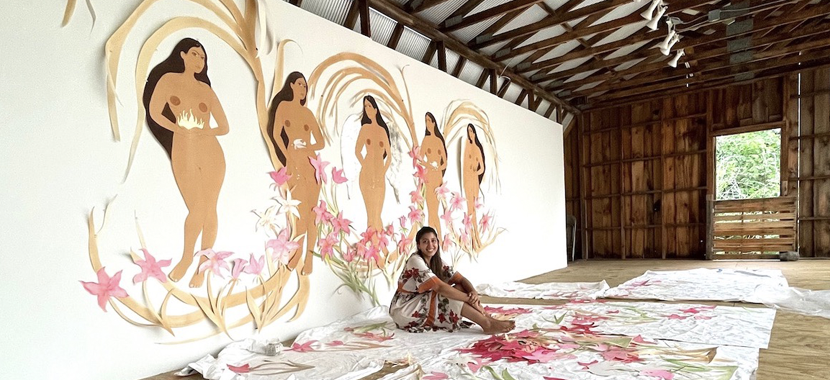 NYFA: How have you built your audience over time? How has your audience changed/grown?
HT: Our audience has grown with us and the artists who have been part of our program. It's expanded further with alumnae exhibitions and now with UPSTATE ART WEEKEND, as the reach to connect with more locals and visitors has been extended through this initiative we developed last year.
NYFA: What role do grants play in your fundraising?
HT: They play a huge role! We are fortunate enough to receive grants from Sarah Arison, Wege Foundation, and 7G Group, which greatly benefit what we are able to offer our artists-in-residence and alumnae. Our partnerships with River Valley Arts Collective and Baxter St at CCNY have also been incredibly beneficial and implemental in our growth.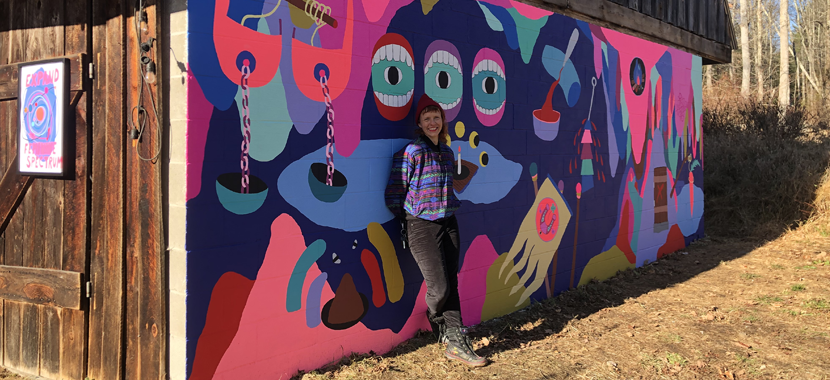 NYFA: In addition to STONELEAF, you also led other community based initiatives such as Upstate Art Weekend and Art Mamas. What draws you to these projects? How do they feed/build off of one another?
HT: I love to create and build upon connections and community. It's important to support one another as life is already tough enough. I love to support artists and those who are doing the same, like so many incredible organizations in the Hudson Valley. The Art Mamas Alliance was created out of a need during the pandemic to support parents in the arts as a way to cope with the uncertainty of that time and has grown into a group of over 300 artists and arts administrators. I think they are all based on the core purpose of support and providing a safe space to share and celebrate one another.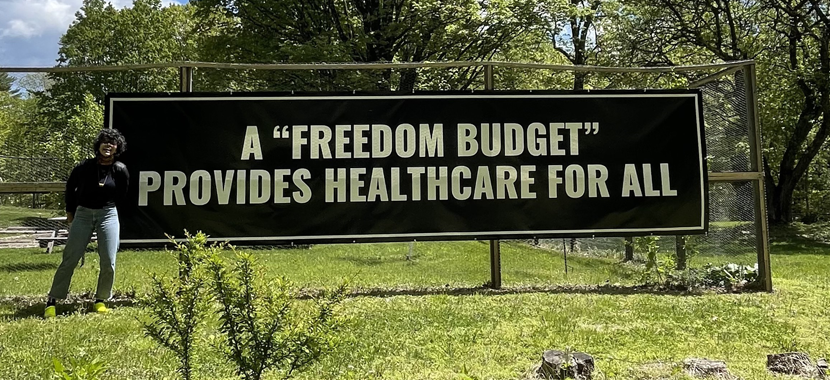 NYFA: How has working with a fiscal sponsor built your work and when did you decide that you needed/wanted a sponsor for this project?
HT: It's been wonderful as it's opened up a way to further our support of artists and the help we have received has been phenomenal. We got fiscal sponsorship from NYFA last year and are working out the best ways to fundraise for the residency, through grants, donors, and crowd-sourcing. We are excited and grateful for NYFA's support.
– Interview conducted by Madeleine Cutrona, Senior Program Officer, Fiscal Sponsorship, and Alicia Ehni, Program Officer, Fiscal Sponsorship
NYFA Fiscal Sponsorship's quarterly no-fee application deadlines are June 30, September 30, December 31, and March 31. We also accept Out-of-Cycle Review applications year-round. Reach out to us at [email protected] for more information. Sign up for NYFA's free bi-weekly newsletter to receive updates on future programs.