Conversations | Vinay Hira, Jaejoon Jang, Janelle Tan, and Chaitanya Tamayo
Conversations | Vinay Hira, Jaejoon Jang, Janelle Tan, and Chaitanya Tamayo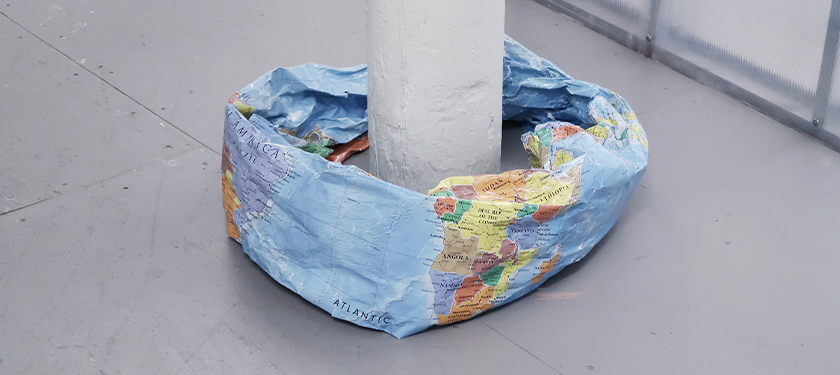 Image: Jaejoon Jang (IAP '20), "IF THE EARTH WERE A SHAPE OF DONUT," 2019
Four Asian American artists celebrate Asian American and Pacific Islander (AAPI) Heritage Month by talking about their careers and how the COVID-19 pandemic has affected their lives.
NYFA stands with communities across the U.S. in our collective anger and grief towards the spike in hate crimes against Asian Americans. In celebration of Asian American and Pacific Islander (AAPI) Heritage Month, and in rejection of these senseless acts, we spoke with four Asian American artists of varying disciplines and backgrounds about practice and identity: multidisciplinary artist Vinay Hira and visual artist Jaejoon Jang, both alumni of the 2020 Immigrant Artist Mentoring Program (IAP); poet Janelle Tan; and musician and performer Chaitanya Tamayo (IAP '19).
NYFA: What does Asian American and Pacific Islander Heritage Month mean to you?
Chaitanya Tamayo: The lasting bequeathment I have from back home is language. Contained in it are the strands of the tapestry I am a part of—the history of the milieu I was raised in. The Philippines learned to speak "American" as Spain ceded its colony to the superior might of the United States military. Part of the country's reboot after the destruction of World War II was the patterning of the government, language, movies. So comprehensive was the Philippines' assimilation of American culture that I spent time as a child in a hippie commune in the jungles of Southern Luzon. My move to the U.S. in 2012 made my language more strange and more real in the way that a reflection might feel upon being confronted by its source. My practice as an artist issues largely from the task I set for myself as the translator of where I am in this circle. AAPI Heritage Month for me is another marker among many that prods me to balance how I move forward while looking back.
Janelle Tan: I think it is a space to rage and celebrate. There aren't a lot of culture-wide spaces for the AAPI community to publicly allow the façade to fall, to widely process what it means to be AAPI in this country.
I went from being a member of the majority back home to a minority here, and I'm still learning what it means to be Asian here—that, to me, is the joy of a month set aside for celebration and community. It's a space for me to learn, but also celebrate where I come from. I don't get a lot of space to celebrate my journey to this country, and any time I get the chance to look back on where I come from, it also lets me wonder about the road ahead for me in this deeply flawed country.
Vinay Hira: We are so much; so much history, so many miles. Some village growing and evolving to be completely different from one next to it. And now we are here, that time, that change, carried to a young country, young places. We bring the age and maturation that American needs. We and our Black and Indigenous siblings blend these fabrics and we make and re-make America.
When I think about being part of the colonized diaspora, and the trauma that inflicts—I realize we live in a Perfumed Nightmare—the only way to move beyond it is to blow down the oppressors and fly away in a "zwiebelturm." I am the white buffalo in the consumerist fever dream that is America—filled with the Chinese-made plumage of white supremacy.
My Hindu priest once said to me when I was driving him back to the temple in my leather-interior imported sedan: "You don't need to get so worked-up about White people using our cultural things. At the end of the day it doesn't matter because they're spreading the word of the Bharat [India]—but they'll never be Us." And ever since, I've taken solace in the fact that Chicken Tikka Masala is Britain's favorite food.
Jaejoon Jang: I have been in the U.S. since 2014. It has been almost seven, eight years already. To be honest, I don't really know about the Asian American and Pacific Islander Heritage Month. I was so shocked that I didn't even recognize that month. I think this is a very good time to promote it.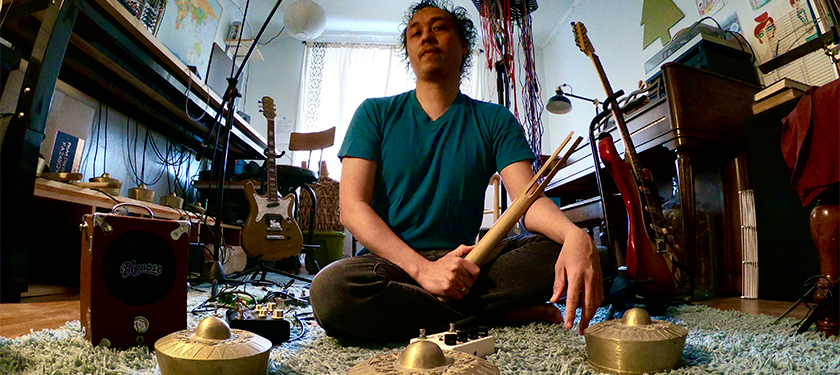 NYFA: What has creation and collaboration looked like for you during the pandemic?
CT: Hectic. I've always had this idea that to be able to work from home would be a dream come true. When the pandemic made it the only way to work starting in the first quarter of 2020, it changed the way I looked at that dream. Regular work day cycles being replaced with extended hours due to being able to accommodate multiple time zones; in-person ensemble replaced by Zoom tiles, crappy sound, and latency; all contributed to tampering that dream and a longing to start working with a community of warm bodies again.
JT: At the start of the pandemic, I felt a lot of capitalistic pressure to 'do something with all this spare time,' to work on my manuscript and 'use time well." I got increasingly frustrated with my inability to write—and later, while talking with some of my poet friends, realized the universality of this experience. I was working on the first draft of my manuscript, and I was stuck.
I felt a lot of pressure to come out of all this time spent at my desk with new work, or a more polished manuscript. I have come to see this as capitalism conflating art with labor and production, and I think that has helped me loosen my expectations of myself.
While I was in isolation, I felt my work becoming increasingly isolated. Before the pandemic, I was working on a couple of interdisciplinary projects with the creative community in New York City—there was talk of work in a multimedia journal, and a video project, and lyrics to music. That all evaporated, and I was left with a deep understanding of all that people say about writing being a lonely enterprise.
This is, I guess, a lot of words to say that I really haven't done much writing. I have been doing a lot of life-work and fallowing. I'm trying to think of that as an integral part of artistic practice: letting the ground rest after a period of intense fertility.
VH: The pandemic has made me realize my favorite collaboration partner is Vinay. And together we will continue the impeccable work that we have been making since we were born, except for the brief period where I was disassociating pretty heavily in Vancouver.
I started restoring vintage designer bags. It's been an exercise in process. The journey of the bag is one of life, death, and repurpose. It is the immigrant's journey. It was also an entrepreneurial exercise—I am an immigrant after all—but it turned out to be one of those "the dealer shouldn't use the merchandise" situations. I love to accessorize.
The Teenage Mutant Ninja Turtles also played a pivotal role in my ability to adapt during the pandemic. As they explain in the theme song: "Splinter taught them to be ninja teens." I realized that I am a "party-dude" and that I already learned the skills of the immigrant through my father's journey to become a New Zealander. Also, Donatello does machines, so it's STEM length H1B visas for everyone but also a sexy Westworld styled robot future.
JJ: During the pandemic, unfortunately, a lot of physical exhibitions and events have been canceled. However, artists always get used to any situation quickly. We make our own way. I was so sad at first, but I got excited at some point about how to overcome this time. We can participate in or hold events virtually. We can meet each other on online platforms like Zoom or Instagram even though we are physically very far away. I think I met more artists than ever before during the pandemic. We might not have had really good opportunities to have conversations unless this situation happened.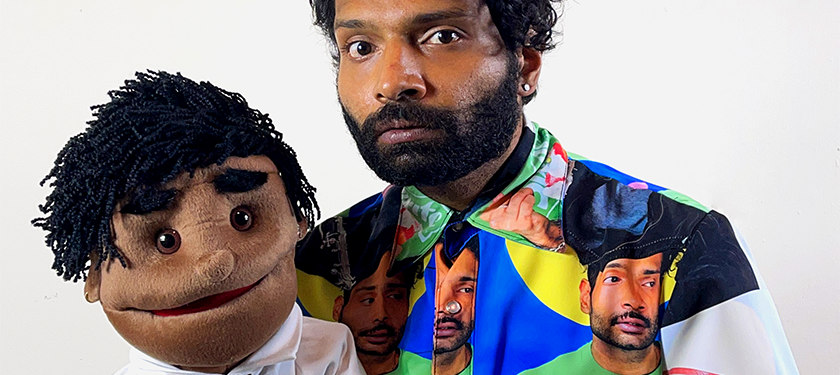 NYFA: What's one tip you'd share that you've found helpful to your art practice?
CT: Get outside and breathe fresh air. While being indoors for extended periods has admittedly contributed to a lot of creation (I was able to translate my opera Mga Stasyon into a film while knowing very little of making movies before 2020, started two bands, and joined numerous festivals), it has also lead to repeated burnouts and a general decrease in the sensitivity needed for building a practice that lasts a lifetime. Bodies of water, parks, and streets have been crucial in navigating through the stress the series of upheavals these past year has brought.
JT: I'm not sure how much this would apply to someone else, but I've found that my artistic practice has benefitted deeply from stability. Once I found a way to financially and emotionally sustain my life in New York City, and once I felt settled into my life here, I was able to devote emotional capacity to writing.
I'm also sure that all poets say this, but most of the poems I've written in the last year have come from observation. The turbulence of the last year has taught me a lot about taking still moments to deeply observe. I find so much poetry in those moments.
VH: The pandemic has taught me to focus my energy on the audience who responds the way I have intended my art to make them feel. Sometimes, that audience might just be me. And that is absolutely fine, because if you're not making art for yourself, what is even the point of being alive. I am a patron of me.
JJ: I don't separate my art practice from my daily life. I usually get inspired by my surroundings. Inspiration always happens unexpectedly.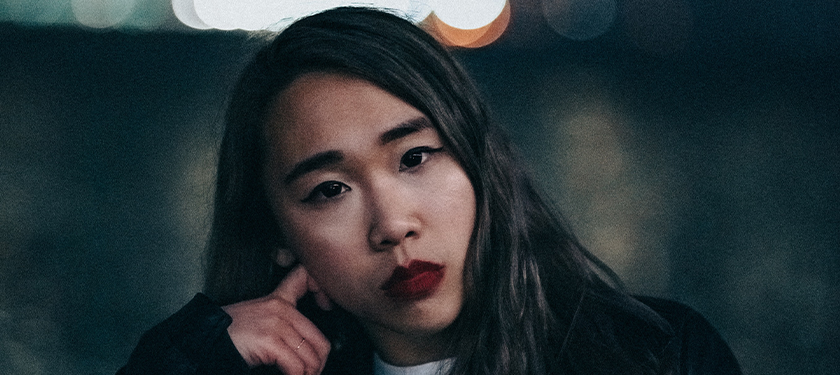 NYFA: Who are some AAPI artists you would recommend our readers look into?
CT: I've been thinking about the special relationship the Philippines has with community singing. Composers and thinkers like Jose Maceda whose Udlot-Udlot I was a part of last summer. Chino Toledo's and Robin Estrada's works for choirs are figuring largely in my well of inspiration for the Isolation Hymnal I am currently working on. I find these artists refreshing both in terms of their sound worlds and the community that they foster to realize them.
JT: For the last year, I've been doing work with the literary non-profit Singapore Unbound and their press Gaudy Boy. I love all the titles Gaudy Boy puts out—in particular, Paula Mendoza's debut book of poems is stellar. Tania de Rozario has a great memoir, and some of my American friends have been big fans of Alfian Sa'at's work.
As far as Singaporean writers go, I love the wit of Inez Tan's work and the ambition of Amanda Lee Koe's novel Delayed Rays of a Star.
Emily Jungmin Yoon and Diana Khoi Nguyen's work is very important to my manuscript. I recently read Suji Kwock Kim's Notes From the Divided Country and would recommend it to anyone.
If anyone hasn't read Theresa Hak Kyung Cha's Dictee, they absolutely have to. There's nothing like it in any era of literature.
VH: Yul Kwon is an artisan who outwitted, outlasted, and outplayed everyone in season 13 Survivor: Cook Islands. His ability to craft contextual situations, whilst subverting identity expectation to his advantage is one of the most compelling pieces of reality television in contemporary Asian American Art.
I have an affinity for Bhupken Khakhar, because our lives share so many parallels—coming from bourgeois commonwealth suburbs, appeasing the financiers with our day jobs, and finally blossoming as outsider artists later in life. His ability to bend the rules of the normal to allow the world to be his dream is something that literally slays me. I am a tiny brown ghost and all Hindus are born again anyway.
But most importantly: Cornershop's line "we don't care about no government warnings, about their promotion of the simple life, nor the dams they are building" taught me the value of critical assessment of authority. This is even more important as we see the religious and political unrest in India and its similarity to what they call the "Israel model." This a self-awareness and understanding of the context that everyone (especially if they look like me, i.e. spicy and brown) needs to survive and navigate through a system that was not built to help us, but to use us.
JJ: I will say Hae Won Sohn and Yoory Jung. They are both Korean artists based in the U.S. Hae Won Sohn is a ceramic artist making minimal/abstract sculptural artwork. Yoory Jung is a painter. Her monochrome paintings are not pure abstraction, they are representations of Celadon surfaces. Their artworks both are not just minimal aesthetics, but also profound and mysterious. They are very traditional but contemporary.
We have a three-person exhibition from July-August, 2021 in Washington, DC. It got canceled last year, but we are preparing to open soon this year.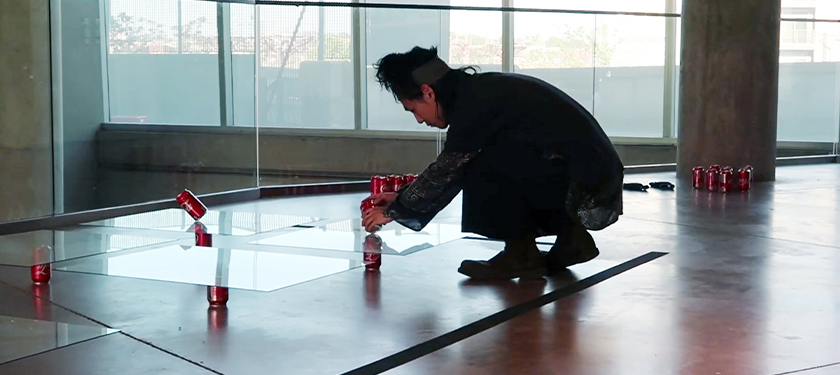 About Chaitanya Tamayo:
Tamayo was born and raised in the plateau city of Baguio in the Cordillera Mountain Range of the Philippines. He grew up in a cult and had a sporadic formal education at best. With these spores, he managed to get to college and graduate with a diploma in classical guitar performance at the University of the Philippines in Diliman. After graduation, he became a recording engineer and built a career in the field. As a recordist, he has been involved in documenting the waning tradition of tud-om (enchantment song) of the Agusan Manobo in Mindanao, the existence of traditional Chinese court music in Old Manila, punk in the squatters area—culture in the margins. He subsequently adapted this penchant for recording into a career of making albums, which he has made for hobbyists in the slums of Manila with a laptop and four mics and albums with studio orchestras for the country's biggest pop stars. He is currently based in Brooklyn, NY.
About Janelle Tan:
Tan was born in Singapore and lives in Brooklyn, NY. Her work appears or is forthcoming in Mass Poetry, Michigan Quarterly Review, No Tokens, Winter Tangerine, The Southampton Review, Nat. Brut, and elsewhere. She holds an MFA degree from New York University, where she was Web Editor for Washington Square Review. She is a Brooklyn Poets fellow and Assistant Interviews Editor at Singapore Unbound.
About Vinay Hira:
Hira is a multidisciplinary artist based in New York, NY. His self-referential aesthetic and varied self-taught technique produces work that distorts the image of a charming commonwealth brown boy—making audiences simultaneously experience his familiarity and his otherness. Trained as a marine scientist and plant pathologist, he was flung into artistic notoriety whilst working in sterling bond investment in the bourgeois New Zealand suburbs. Being a New York Foundation for the Arts Immigrant Artist Mentee in 2020, American Asian Artist Alliance 2021 Resident, and En Foco Photography 2021 Fellow has affirmed his place in the narrative of contemporary American art.
About Jaejoon Jang:
Jang lives and works in Brooklyn, NY and Baltimore, MD. He completed an MFA degree and a BFA degree at the Maryland Institute College of Art in Baltimore. Before studying art, he studied mechanical engineering at Hongik University, Seoul, South Korea. He participated in the Vermont Studio Center Residency, in VT; MASS MoCA Residency in MA; Carrie Able Gallery Artists In Residence, in NY; and the NYFA Immigrant Artist Program, also in New York.
– Interview conducted by Kyle Lopez, Program Associate
This post is part of the ConEdison Immigrant Artist Program Newsletter #138. Subscribe to this free monthly e-mail for artist's features, opportunities, and events. Learn more about NYFA Immigrant Artist Mentoring Program.