Keeping Authenticity Through Intention: A Conversation with Andrew Clarke
Keeping Authenticity Through Intention: A Conversation with Andrew Clarke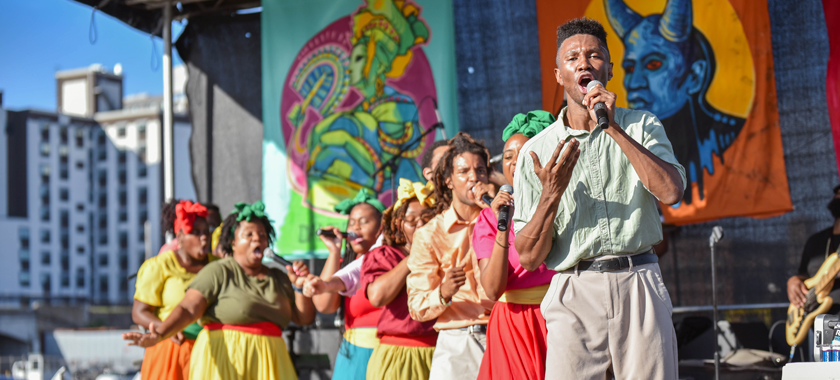 Image: The Braata Folk Singers in performance at the 2022 staging of the annual Bankra Caribbean Cultural Festival, Photo Credit: Chadrick Barnes Photography
Andrew Clarke, Jamaican-born performing artist and the Founder/Executive Director of Braata Productions, talks about creating a space for and giving voice to Caribbean performers.
Andrew Clarke started Braata Productions in 2009 to present and celebrate Caribbean performing arts and cultures in New York. Since then, he has received funding from the Howard Gilman Foundation, New York State Council on the Arts (NYSCA), NYC Department of Cultural Affairs (DCLA), and more. We spoke with Clarke about his vision, approach to authenticity, and thoughts on sustaining and developing new audiences.
New York Foundation for the Arts (NYFA): Tell us about Braata Productions. As founder, what was your vision for establishing the organization?
Andrew Clarke (AC): At age 21, I moved to the U.S. and lived in Miami for three years. Growing up, people around me would say "You should be on Broadway" or "You sing like a Broadway performer." So I decided to pack everything and move to New York in search of new opportunities. A few months later, I realized that there were going to be many difficult hurdles. It was not just about having talent, but also knowing the paths to get on stage, whether it be signing with an agent to get auditions or becoming an equity actor.
Then there was my accent. I had a thick Jamaican accent, and I still do after thousands of dollars and many hours of accent reduction coaching. It was especially challenging because I was auditioning for characters who did not sound like me. It is very rare you come across Caribbean shows/characters in "Mainstream" American theater. There is not a lot of focus on authentic representation in the mainstream theatrical space. This was a reality check because I realized there was no space for me here. So I went back to my drawing board and decided why not create a company?
Back in June 2009, Braata started with a small group of friends from performing arts school who would come together and create art that they could identify with. We did some readings and rehearsed together. Karl O'Brian Williams, Founding Artistic Director, and I were doing everything, from costumes and lighting, to choreography and directing the show. Braata was born to give space and voice for Caribbean actors, becoming a bridge to performing arts in the Caribbean to New York as a multidisciplinary presenting and performing organization.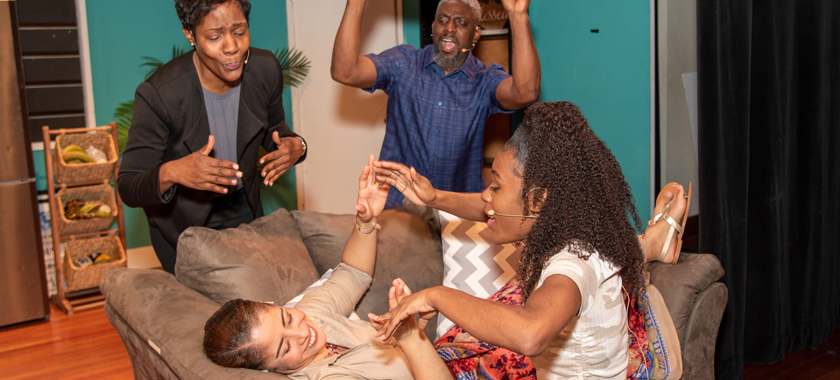 NYFA: Cultures and traditions evolve and change, whether they stay in their homeland or are brought to a new place. How do you approach the idea of "authenticity" given your context presenting the culture in the U.S.?
AC: Being a presenter, there is a challenge to present traditional arts away from the source and the process is to rethink what it means to remain traditional in spirit. Art has to respond to the environment that it's in. One example is music. We had a hard time finding drummers who played the jembe or other traditional drums to record for our folk singers' chorus CD. Even if we were to find one or two people, they already had full-time jobs or other high paying gigs and had no capacity to play for us. So we had to make the best of the limited resources and tools. Technology has allowed us to replicate some of the sounds that would be authentic.
Being a presenter, there is a challenge to present traditional arts away from the source and the process is to rethink what it means to remain traditional in spirit. Art has to respond to the environment that it's in.

Andrew Clarke
Another example is the Christmas Grand Market. Jamaica is a warm country, nearing 80 degrees in December. Christmas Grand Market in Jamaica happens on an open field or in a town square. It is an outdoor event. But in New York City where winters are snowy and extremely cold, there was a need to adapt. We asked ourselves: "Do we not do this event because it is deviating from its original form, or do we keep this tradition alive at our new home in some shape or form by responding to the environment it's in?"
As an artist, you are put at a crossroads. Do I not create this art because we don't have access to the elements and resources available in our hometown? Or do I create this art because it's a representation of a tradition that I want to keep alive in a new place? This is a challenge that we face as we adapt to a new environment.
NYFA: How do you sustain your audience community and grow new ones?
AC: In the beginning, Braata was focused more on Jamaican folk/traditional arts. But this limited our target audience to a small population because folk art is already not popular within the Jamaican community. It was difficult to keep a production afloat and sustain the organization. We strategically thought to broaden the geographic target to diversify and increase attendance by encompassing cultures across the Caribbean islands.
As a result, we are able to celebrate the difference and richness of the cultures, bringing people from different Caribbean cultures and beyond to learn from each other. There are no two islands that are the same. But we end up living in our own bubbles so we don't try to explore other islands and their culture.
When people come to our events such as the Christmas Grand Market out of familiarity with Jamaican culture, they're experiencing a little bit of Bahamian Christmas, St. Lucian Christmas, Dominican Christmas, etc. The beauty of expanding is knowing that everyone who comes to Braata events leaves with something more than they already know. This also introduces people who may not know anything about the Caribbean islands access to experience the culture.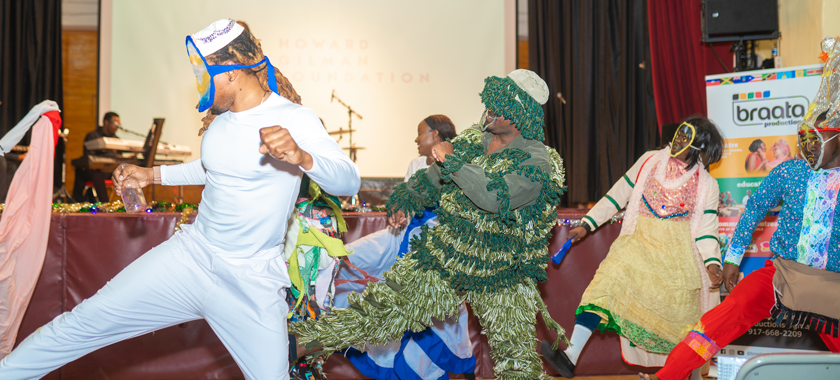 NYFA: The holiday season is upcoming and Braata Productions will celebrate its 15th year when the new year arrives. Congratulations! What is on the horizon for Braata Productions?
AC: The Christmas Grand Market is coming up in December! This will be held in three boroughs for the first time. On December 9, we will be at Merrick Academy Charter School in Queens. On December 10, we will be at Harry S. Truman High School in the Bronx. On December 17, it will be at Alliance Tabernacle in Brooklyn. This is a family friendly event with an abundant amount of games, activities, vendors, and performances!
In 2024, we will be celebrating our 15th year! We will be hosting our 15th Anniversary Gala which will be held at Brooklyn Children's Museum. We hope to see everyone there!
About Andrew Clarke
Jamaican-born Andrew Clarke is the Founder and Executive Director of Braata Productions, a nonprofit arts organization that comprises the Braata Folk Singers, Braata Education & Outreach, and Braata Theatre Workshop. A graduate of The Edna Manley College School of Drama in Jamaica and Brooklyn College in New York, Clarke is an award-winning thespian and vocalist and is a past recipient of the Prime Minister of Jamaica's Youth Award for Excellence in Arts and Culture.
Since founding Braata Productions, he has produced over three dozen productions including staged readings, fully-mounted shows, festivals, and regional tours of new and established works including The Black That I Am, Hortensia's Recession, Demerara Gold, Welcome to America: A Caribbean Musical, and Single Entry as well as three consecutive seasons of the Braata Folk Singers biennial concert series.
Under his guidance as Producer and Artistic Director, the Braata Folk Singers has acquired an impressive resume over the past 11 years that includes performances throughout the New York Tri-State area and regionally, from Toronto, Canada, to Atlanta, GA.
In 2013, Caribbean Life honored him as being among the best and brightest of young Caribbean-Americans entrepreneurs on their "20 under 40" list.
In 2015, he experienced one of his biggest career triumphs to date, when the Off-Broadway musical Flambeaux, on which he was a Co-Producer, swept the 2015 AUDELCO Awards, winning in six categories including Best Musical of The Year. In 2017, he helmed the world premiere musical Welcome to America: A Caribbean Musical on which he served as Producer and Co-Lyricists/Composer. He has since gone on to make his Off-Broadway debut as an actor in The Harder They Come at the Public Theater.
About Braata Productions
Braata Productions is a multidisciplinary folk arts organization founded in 2009 to give Caribbean-born, Afro-Caribbean, and Caribbean-American artists a platform through which to showcase their work and talents. Based in Queens, NY, Braata annually serves a diverse audience of over 5,000+ supporters and 100+ artists from the five boroughs. Braata Productions both presents and produces a wide array of cultural offerings, which include: Community Outreach, Folk Performance, Educational Programming, and Theater Productions.
–Ya Yun Teng, Program Officer, Immigrant Artist Resource Center (NYC) and Ju Hye Kim, Program Associate, NYFA Learning
This post is part of the ConEdison Immigrant Artist Program Newsletter #166. Subscribe to this free monthly e-mail for artist's features, opportunities, and events. Learn more about NYFA Immigrant Artist Mentoring Program.