Nancy Cohen and Alonzo Davis Receive 2022 Murray Reich Distinguished Artist Awards
Nancy Cohen and Alonzo Davis Receive 2022 Murray Reich Distinguished Artist Awards
Images: (L) Nancy Cohen, Photo Credit: Sadie Bridger and (R) Alonzo Davis, Photo Courtesy of the Artist
$12,000 unrestricted cash award recognizes mature visual artists with a long history of creative practice.
New York Foundation for the Arts (NYFA) has announced multimedia artists Nancy Cohen and Alonzo Davis as the 2022 recipients of its Murray Reich Distinguished Artist Award. The $12,000 award, which was established in 2015, recognizes artistic excellence and provides resources to mature visual artists with a long history of creative practice.
With the support of an anonymous donor, NYFA created this annual unrestricted cash award to enable artists with a long history of creative practice to pursue deeper investigations or new explorations that can inform or enrich their work. It has been developed in memory of the artist Murray Reich, a New York-based painter who also had a highly-regarded career as a professor of art at Bard College. This year's recipients were selected by Amy Hausmann, curator and director of the Olana State Historic Site, New York; Sanford Wurmfeld, artist, emeritus chairman of the Department of Art at Hunter College; and John Yau, American poet and art critic.
"We are grateful to our generous donor for helping to recognize Nancy Cohen and Alonzo Davis with 2022 Murray Reich Distinguished Artist Awards," said Michael Royce, Executive Director, NYFA. "Being an artist is a lifelong pursuit, and this award considers their decades of work and creative contributions while encouraging them to continue evolving and growing their practices," he added.
Jersey City, NJ-based Nancy Cohen examines resiliency in relation to the environment and the human body through paper tapestry, sculpture, and installation works. Her work has been exhibited widely throughout the United States and is represented in the collections of The Montclair Museum, The Newark Public Library, The Weatherspoon Art Gallery, and The Zimmerli Museum. She has completed numerous large-scale, site-specific projects for Summit Public Art, Thomas Paine Park in lower Manhattan, The Staten Island Botanical Garden, The Noyes Museum, The Katonah Museum, and Howard University.
Cohen's collaborative installation with Anna Boothe, titled Between Seeing & Knowing, is currently on view at the Bergstrom Mahler Museum of Glass in Neenah, WI. Another recent installation, Your Water/My Sky (May 2022), is a series of nine double-sided banners commissioned by Summit Public Art for the walkway outside the Summit, NJ, train station. She is currently collaborating with interdisciplinary artist Meagan Woods on a sculptural installation/operatic performance piece called Once She Dries, based on a love story between a coral reef, a cloud, and the pantheon.
Cohen has been awarded six fellowships from NJ State Council on the Arts, two from The Brodsky Center at PAFA, and a Pollock Krasner Foundation Grant. She has had residencies at MacDowell Colony, Yaddo, The Millay Colony, Dieu Donne, Pilchuck Glass School, and others. Her work has been reviewed in books and periodicals including The New York Times, The New Yorker, The Village Voice, ARTnews, and Artists and Climate Change. In June 2021, Cohen was featured in the PBS series "NJ State of the Arts."
Cohen received her MFA degree from Columbia University and her BFA degree from Rochester Institute of Technology. She currently teaches at Queens College and is represented by Kathryn Markel Fine Arts.
On being recognized with a Murray Reich Distinguished Artist Award, Cohen said: "Being an artist is both a privilege and a circus act, like trying to stay stable on a balance beam. There are lots of falls and almost falls and it is hard to maintain one's balance. I feel grateful to have ideas for work I want to pursue, people who are supportive of my work and interesting projects to work on. I will use the Murray Reich Distinguished Artist Award to continue my large-scale handmade paper tapestries and sculptures/installations engaging with ideas around issues of individual and environmental struggles and resilience."
Hyattsville, MD-based artist Alonzo Davis' prolific career spans five decades. A native of Tuskegee, AL, Davis moved with his family to Los Angeles, CA as a teenager and has spent the last 20 years in Maryland. Rather than reflecting roots in any one place, however, Davis' work shows a lifetime of affinities and time in West Africa, parts of Asia, the Pacific Rim, the Caribbean, Mexico, Indigenous America, and the Southern U.S. Also contained in Davis' works are an impassioned commentary on global, social, and environmental realities.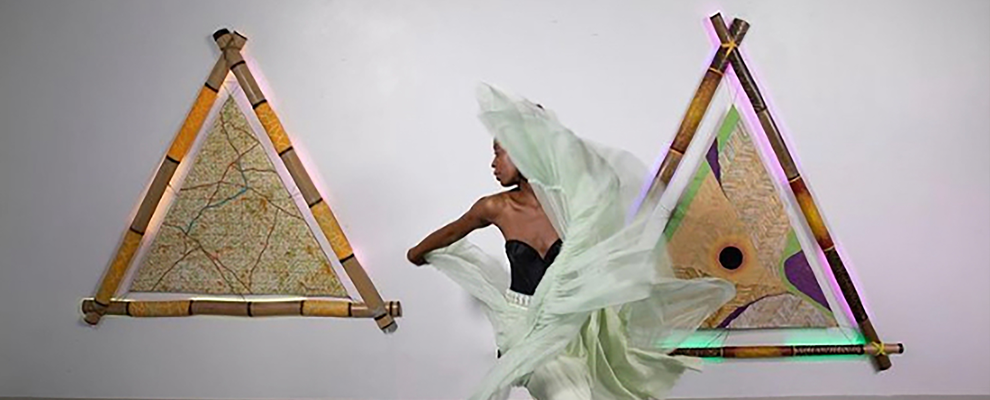 Davis interprets "archaeological reflections and the materiality of the cultures with which he connects, whether the connection is ancestral, aesthetic, political, or spiritual…His fusion of raw materials, tribal patterns, and abstract landscapes into multi-media pieces document the experiences and influences of place and time," as described by curator Tomora Wright. Wright continued that Davis' use of repurposed materials into recurring images of "boats, maps, paths, doorways, horizon lines, and mysterious portals highlight the artist's intention—as an adventurer, seeker, or one in search of a destination, and inveigles the viewer into joining him."
Over the span of a nearly 50-year art practice, Davis has produced multiple series in multiple forms and exhibited widely in the U.S. and abroad. During the '70's and early '80's, Davis' role in the California mural movement culminated in a monumental work for the 1984 Los Angeles Olympics. His work can be found in many private collections and public spaces. In Maryland, Judicial Balance, a bamboo construction, commissioned by the Prince George's County Art in Public Places Program and installed in 2006, can be viewed at the Prince George's Maryland County Courthouse in Upper Marlboro. The artist's recent partial retrospective Alonzo Davis: 20 Years in Maryland, was held at Germantown's BlackRock Center for the Arts in Montgomery County.
Davis earned his undergraduate degree from Pepperdine College and his MFA degree in Printmaking and Design at Otis Art Institute. He is a member of Black Artists of DC and the Washington Sculpture Group.
Said Davis upon receiving the Murray Reich Distinguished Artist Award: "I am deeply honored and humbled to receive this award from the New York Foundation for the Arts. The Murray Reich Distinguished Artist Award gives important recognition to elders, that while we have long been here, we are not forgotten. The award also provides me invaluable support as my art practice evolves to require reasonable accommodations and accessibility, enabling me to continue realizing my full, creative vision."
Born and raised in Coney Island and the south Bronx, Murray Reich (1932-2012) attended City College and received his M.F.A. degree in Painting from Boston University. Following his first solo show in New York at Max Hutchinson Gallery, Reich was awarded a Solomon R. Guggenheim Fellowship. Reich received other fellowships, including one from the National Endowment for the Arts. His work was exhibited in two Whitney Annuals and at the American Academy of Arts and Letters as well as in solo shows and group exhibitions.
Reich was Professor Emeritus of Painting at Bard College in Annandale-on-Hudson, New York, where he taught for 25 years. He served on the faculty of the Graduate Program in Art at Hunter College, also in New York. He was the inaugural director of Tanglewood's Summer Program in Art in Massachusetts, and also taught at Boston University. He lived and worked in New York City, Provincetown, and Mount Tremper in upstate New York.
Find out about additional awards and grants here. Sign up for our free bi-weekly newsletter to receive announcements about future NYFA events and programs.