Register Now | Marketing Strategies for Artists E-Course
Register Now | Marketing Strategies for Artists E-Course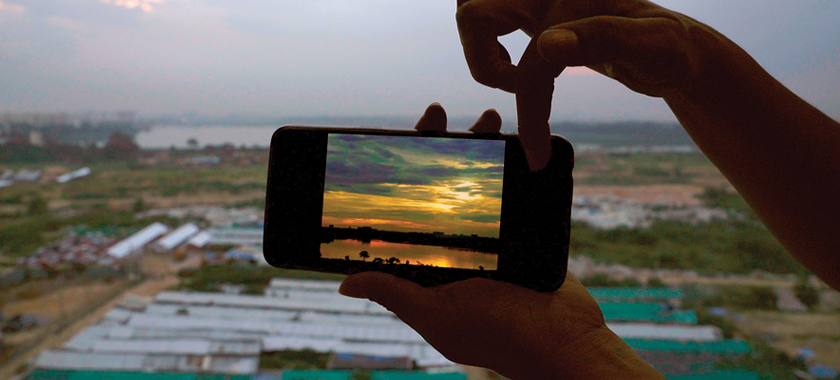 Image Detail: Sindhu Thirumalaisamy (Fellow in Video/Film '21); "The Lake and The Lake;" 2019; digital video, stereo sound
This online marketing course will take place in two parts on January 25 and February 8, 2022.
Marketing is one of the most important yet challenging parts of being an artist. How can you make sure that you're using your channels effectively, and what is the best use of your time and limited resources? Get answers to these questions and more at our Marketing Strategies for Artists e-course, which will take place on Tuesday, January 25 and Tuesday, February 8. In Part 1, we'll review the fundamentals of online marketing. Part 2 will offer individualized feedback on your website and Instagram presence.* See below for full details!
*Part 2 was capped at 15 registrants, is now at capacity.
Part 1 | Marketing Strategies for Artists: Let Your Goals Guide You
This session will help you to tailor your marketing efforts in accordance with your personal artistic goals. Marketing expert Molaundo Jones, Founder of The Clever Agency, will present on the topic with a focus on digital marketing, particularly social media tips, strategies, and advice for cultivating a digital audience and facilitating opportunities online.
What: Marketing Strategies for Artists: Let Your Goals Guide You
Presenter: Molaundo Jones, Founder of The Clever Agency
When: Tuesday, January 25, 6:00 PM – 7:30 PM EST
Where: Online via Zoom
Cost: $25
Package Discount for Both Sessions ($10 discount): $50
Register: Click here to register.
Questions: Email [email protected]
Part 1 of this e-course will be recorded and shared with all previously registered participants after the session concludes. It will be available for viewing up to three months after the workshop date.
Part 2 | Marketing Strategies for Artists: Your Website and Instagram Reviewed
This session will provide individualized feedback on two of the most important components of your digital presence: your website and your Instagram page from marketing expert Molaundo Jones and Artist Coach Therapist Terri Frohman, respectively. In addition to personalized guidance from these art marketing experts, participants will have the opportunity to ask questions and benefit from a small group brainstorming and discussion. Registration for this session is open only to those who register and join the first session, and is now at full capacity.
What: Marketing Strategies for Artists: Your Website and Instagram Reviewed
Consultants: Molaundo Jones, Founder of The Clever Agency, and Terri Frohman, Artist Coach and Founder of Homemade in Brooklyn Collective
When: Tuesday, February 8, 6:00 PM – 8:00 PM EST
Where: Online via Zoom
Cost: $35
Package Discount for Both Sessions ($10 discount): $50
Questions: Email [email protected]
Our Presenters
About Molaundo Jones:
Molaundo Jones' work converges at the intersection of art, marketing, entrepreneurship, professional development, and community engagement. He is Founder of The Clever Agency, a content creation and brand strategy consultancy, where he also launched VeryCleverStudios.com, a storefront studio project designed to amplify the work of emerging performing artists, entrepreneurs, and disruptors.
Jones has had the opportunity to work for some amazing, creative, and mission-driven companies including Black Girl Ventures Foundation, an organization committed to creating low-barrier access to capital for Black and Brown women-identifying founders; the NYC Arts in Education Roundtable, New York's premier arts advocacy organization; Queens Council on the Arts, an institution committed to developing the arts in Queens County; and Fractured Atlas, a national membership-based organization committed to helping artists raise capital for their projects.
In addition to his passion for working with Elders through arts education, Jones also enjoys contributing to the development of emerging artists and entrepreneurs. He has served as a panelist and facilitator with organizations including New York Foundation for the Arts, Brooklyn Arts Council, the Museum of Arts and Design, and the NYC Metropolitan Transit Authority. Jones currently serves as President of the Board of Fourth Arts Block (FAB NYC), a community organizing-based nonprofit committed to strengthening the cultural diversity of the Lower East Side.
About Terri Frohman:
Terri Frohman is founder of Handmade in Brooklyn Collective Inc. and a full-time mixed media artist, coach, speaker, educator, and mentor. Previously, Frohman was a successful art educator and administrator who represented the New York City and the New York State Board of Arts Education Associations, taught grades K-12, and led educational workshops and initiated a variety of mentorship programs for new educators.
In 2015, she began a new professional chapter as a full-time mixed media artist and Founder of Handmade in Brooklyn. She participated in events and other opportunities that would develop her skill set as a professional artist in business and women-owned, small business owner. As challenging as it was and with little guidance on how to BE an artist in business, Frohman gathered other creatives from these events and cultivated a strong community of women-owned artists in business, hence Handmade in Brooklyn Collective was born.
Currently, Froham has dedicated her career to empowering artists in business through private coaching, consulting, and mastermind programs for emerging artists looking to transition out of their corporate positions and those looking to elevate their careers as a professional artist. An alumna of SUNY New Paltz and NYU, Frohman lives and works in Brooklyn.
This program is part of NYFA Learning, which includes professional development for artists and arts administrators. Sign up for NYFA's free bi-weekly newsletter to receive updates on future programs.