Sculptor Inna Babaeva on Why Supporting Other Artists Matters
Sculptor Inna Babaeva on Why Supporting Other Artists Matters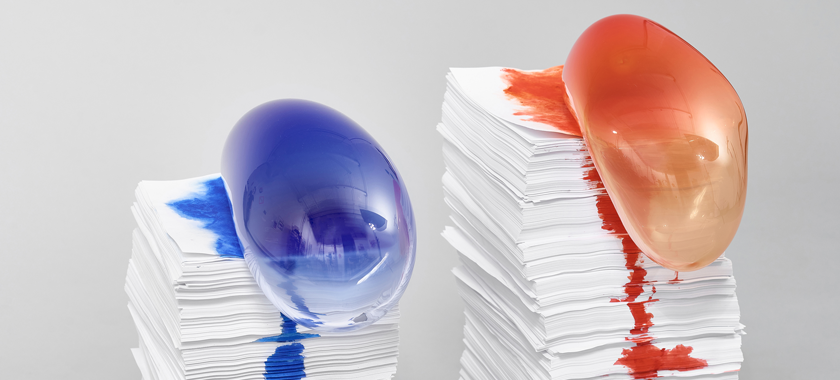 Inna Babaeva (IAP Mentor '20, '21); "Synonyms;" 2018; copy paper, hand blown glass, paint; Photo Credit: Andy Romer
We spoke to Babaeva about her immigration journey from Ukraine to the United States, current projects, and how mentorship offers opportunities for creative exchange.
Originally from Ukraine, visual artist Inna Babaeva is a two-time mentor in NYFA's Immigrant Artist Mentoring Program. We had the opportunity to speak with Babaeva about moving to the United States, her practice as a sculptor, and what it's been like mentoring other artists.
NYFA: Could you please tell us a bit about your journey of immigration from Ukraine to the United States? What was that process like?
Inna Babaeva: I was born and raised in the Ukrainian city of Lviv. The name of this city, unfortunately, has now become familiar to people around the world as a transit point for Ukrainian war refugees seeking safety in other European countries. As a kid, I felt lucky to grow up in this city of hospitable people, historically acclaimed architecture, dreamy parks, and beautiful museums and theaters. But Ukraine was part of the Soviet Union at that time, and the oppressiveness of the Soviet regime was very profound. It limited peoples' basic rights in education, employment, political affiliation, access to free press, choice of place to live, to travel freely, or choose what kind of art you can see.
I was fortunate to have had open-minded parents who were listening to Air America and BBC on a little transistor radio that my dad put together, so they could learn about what was happening in our country from free press and not just from the Soviet propaganda system. That was the reason that, when I came to the United States on a six-month tourist visa, I made every effort to stay in this country. I took many low-paid jobs while learning English and earning a college degree, and I later became a U.S. citizen. Eventually, I got my MFA degree from Rutgers University and I moved to New York City after my graduation in 2003.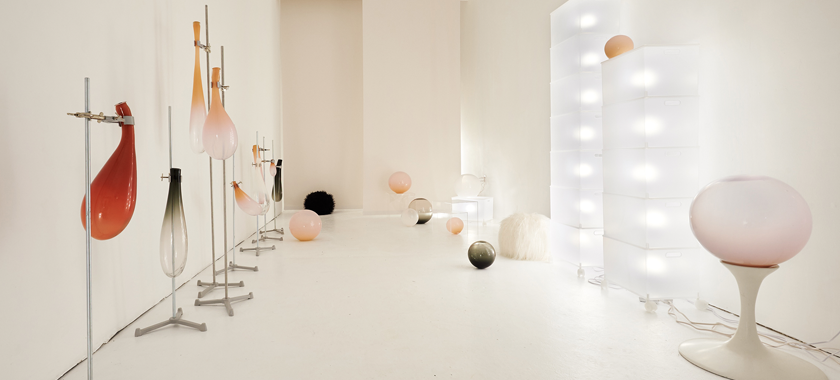 NYFA: What are some of the ideas you're working through in your current projects?
IB: I am a sculptor and I use mass-produced objects and materials that are available for purchase and mix them with forms that I make myself. Living in our culture of conformist mass-production, I question how we make choices between ordinary and unique; machine-made and crafted by hand; disposable and precious.
Since 2017, when I was awarded a residency at Urban Glass in Brooklyn, I have been using hot blown glass sculptures as a "hand-made" component of my work. Glass is a fascinating material. It does not decompose over time, but can be broken in a second. It allows you to see outer and inner layers of a form simultaneously. It is hard to control during making and can surprise you with the shape it assumes. Its transparency and color can fluctuate. At the moment, I am working on a series of slumped glass spheres for a grant proposal.
NYFA: You've been a mentor for the Immigrant Artist Mentoring Program twice now. What has participating in this opportunity meant for you?
IB: I was invited to be a mentor for the Immigrant Artist Mentoring Program in 2019. It felt like a great opportunity to meet with fellow immigrant artists and to learn about their life experiences, artistic inspirations, and ideas. Our first introduction meeting was filled with excitement and the anticipation of creative exchanges to come. Before we could meet again, however, New York was under COVID shut-down, and our second meeting was held on Zoom. It was March 2020, a time of many unknowns. It was a very emotional meeting during very difficult times for everyone.
We kept in touch via remote communication means but that, of course, could not replace in-person contact. The IAP team made efforts to bring us all together in person by extending the program's end date but due to then-existing health concerns, it was not possible and our final meeting was on Zoom.
When I was invited to participate in the program again, I thought it would be so good to connect with old friends, meet new artists, and to experience the program as it was meant to be: through in-person contact. After meeting all of the talented artists during both IAP terms, in my mind, I am now calling this program the "Immigrant Artist Mate Program." Calling us "mentors" or "mentees" is so relative. I feel it is just a place to exchange our respective knowledge, experiences, ideas, and passions.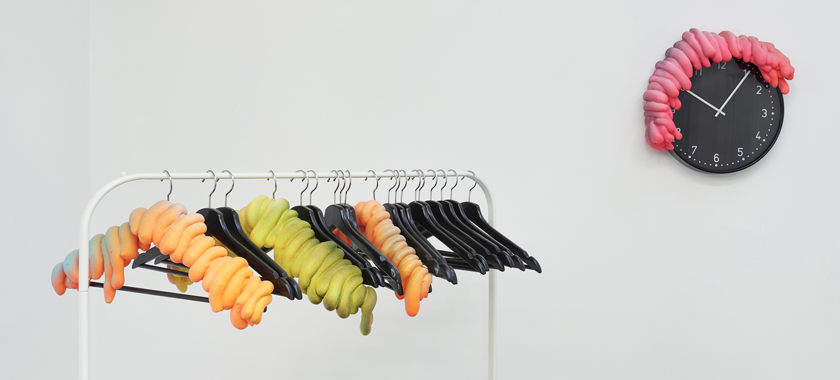 NYFA: Do you have any tips for immigrant artists aiming to build a sustainable career from their art?
IB: My main advice is to stay connected with your local artist community. New York City has such an amazing, broad, and diverse community of artists who are connected to other communities throughout the U.S. and abroad. By supporting artists who you know, you support yourself. The best opportunities that I've had were gifted by the friends I've met over the years. If you are an artist, you are a citizen of the world.
About Inna Babaeva:
Inna Babaeva was born in Lviv, Ukraine, and she lives and works in New York City. She recently had solo exhibitions at Peep Space, Tarrytown, NY (2021); Underdonk, Brooklyn, NY (2021); Essex Flowers, New York, NY (2020); Art in Buildings, New York, NY (2017); and at TSA, Brooklyn, NY (2016). Her work has been in group exhibitions at Flint Institute of Arts, Flint, MI; Gordon Galleries at Old Dominion University, Norfolk, VA (2018); Kienzie Art Foundation, Berlin, Germany (2017); and Songs for Presidents, Brooklyn, NY (2017).
Babaeva's work has been featured in Two Coats of Paint, VICE Magazine, ArtFCity, SLEEK Magazine, Sculpture Center Notebooks, Glass Quarterly, and ARTnews. Babaeva is a recipient of the Joan Mitchell Foundation grant (2007), a Sharpe-Walentas Studio Program grant (2015), a Visiting Artist Fellowship grant at Urban Glass (2017), and was a Rema Hort Mann Foundation grant nominee (2016). Her work is in the permanent collection of the Flint Institute of Arts, Flint, MI. Babaeva received her BFA degree from Florida Atlantic University and her MFA degree from Rutgers University.
– Interview conducted by Kyle Lopez, Program Associate and Editor, Con Edison Immigrant Artist Program Newsletter
If you want to help support the people of Ukraine, visit this New York Times roundup featuring four aid organizations that have received high marks from charity evaluators. Here are some other highly rated charity organizations that you can consider supporting to aid those undergoing refugee crises around the globe: Lutheran Immigration and Refugee Service, RefugePoint, Refugees International, Doctors Without Borders, and International Refugee Assistance Project.
This post is part of the ConEdison Immigrant Artist Program Newsletter #147. Subscribe to this free monthly e-mail for artist's features, opportunities, and events. Learn more about NYFA Immigrant Artist Mentoring Program.