Tomorrowland Projects Foundation Announces Aisha Amin, Skooby Laposky, and Andrew Quitmeyer as 2022 Award Recipients
Tomorrowland Projects Foundation Announces Aisha Amin, Skooby Laposky, and Andrew Quitmeyer as 2022 Award Recipients
Image: 2022 Tomorrowland Projects Foundation Award recipients (from L) Aisha Amin, Image Credit: Taylor Hewett; Skooby Laposky, Image Credit: Tiffanie Hsu; and Andrew Quitmeyer, Image Courtesy of the Artist
Invite-only award for projects that expand awareness of issues affecting society-at-large administered by New York Foundation for the Arts (NYFA).
New York Foundation for the Arts (NYFA) is pleased to announce that film and installation artist Aisha Amin, music/sound and data artist Skooby Laposky, and multidisciplinary artist Andrew Quitmeyer were selected as the 2022 recipients of the Tomorrowland Projects Foundation Award.
Amin was recognized with a $7,000 cash grant and Laposky and Quitmeyer were recognized with $3,500 cash grants through the Tomorrowland Projects Foundation, which supports artistic, multidisciplinary team collaborations and artist-driven projects that expand awareness of issues affecting society-at-large, and considers award-planning funds to develop new technology, research, and installation art.
Amin, Laposky, and Quitmeyer were selected by a panel of anonymous reviewers and approved by Tomorrowland Projects Foundation's Board of Directors for the projects "Take Me To The River," "Hidden Life Radio," and "Dreamboat," respectively.
Aisha Amin's "Take Me To The River" is an ongoing exploration of the topic of faith and spiritual traditions and the importance they have in holding together communities of color in the United States. It intends to depict a religious tradition while touching upon its historical significance amidst climate change, showing how individuals must combat destructive conditions without remedial aid.
The project is an extension of multidisciplinary video and sound installation "The Earth Has Been Made A Place Of Prayer," which in 2021 brought the experience of a culturally historic mosque to The Shed's gallery space with the intention of disrupting stereotypes of Islamic communities in this country.
Amin is completing the project with collaborators Taylor Hewett, an architect and project leader at Bjarke Ingels Group; Udit Duseja, a London-based sound designer; and Zac Manuel, a New Orleans bred-and-based filmmaker and community builder at the Department of Housing and Urban Development.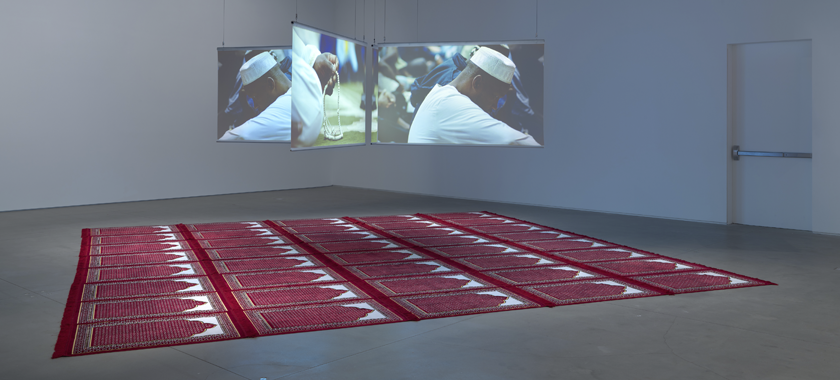 Skooby Laposky's "Hidden Life Radio" is a public art project that aims to increase the general awareness of trees and their importance to the future of humanity through long-form biodata sonification and deep listening practices. It is inspired by conversations Laposky held with residents in various cities who expressed concerns about the disappearance of old-growth trees, the lack of proper tree canopies, and the need for better tree stewardship.
The "broadcast" is a musical composition unfolding in real-time and running 24 hours a day from leaf out in summer until leaf drop in December. Weather, climate, and other environmental conditions directly affect the composition. Listeners can tune in at any time and hear the trees' "hidden life" over an extended period of time. A series of on-site "sound bath" performances will also occur with local musicians improvising with the biodata sonification livestreams being broadcast from their area.
Collaborators include designer, author, and educator Carla Diana, who explores the impact of future technologies through hands-on experiments in product design and tangible interaction. Other collaborators are to be determined, and will be selected from a roster of talent from New York City and Upstate New York.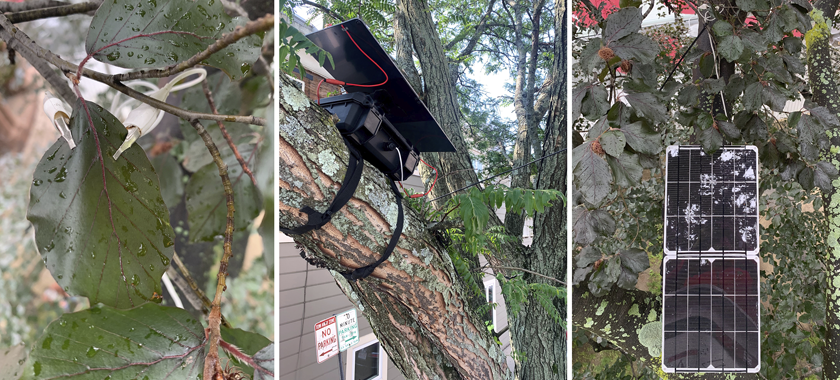 Andrew Quitmeyer's "Dreamboat" is an interactive, community science center that also functions as a dynamic new media sculpture for displaying real-time environmental data. This floating maker-space—a modular raft situated in and around Dreamspace Academy's "Ocean Lab" in Sri Lanka's Batticaloa Lagoon—is decked out with tools and equipment to not only explore art and technology; it connects the local community to ecosystems around them.
The lagoon, which is famous for several types of brackish and freshwater ecosystems including the home of the formerly mythical singing fish, has been under threat by pollution and neglect after the Sri Lankan Civil war. The lab provides a central platform for artists, engineers, tourists, and fisherfolk to come together to understand, explore, and preserve the nearby precious resources hidden under the waves. It is solar powered and equipped with sensors, drones, and scientific instruments that support up to 10 people at a time while running 24-hours a day.
"Dreamboat" will also function as an eye-catching reminder of the unseen natural phenomena. The onboard lights and water-sheet projection system translates the environmental sensor data into dynamic public visualizations. Most important is that "Dreamboat" is built and owned by the community (spearheaded by Dreamspace Academy's OceanLab) which will let them maintain this project into the future.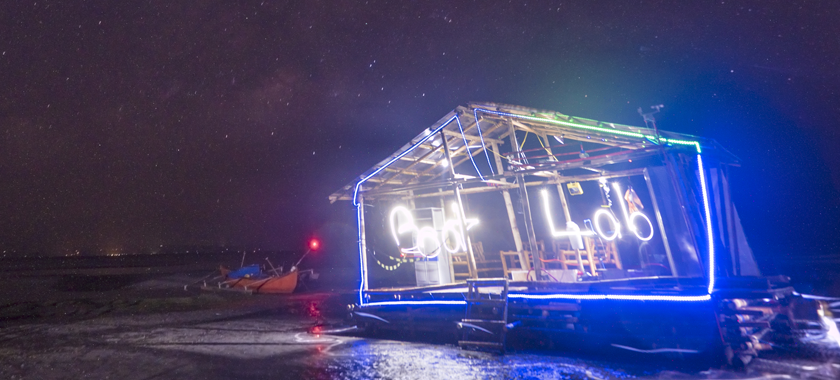 Tomorrowland Projects Foundation Board of Directors comprises Nina Yankowitz, President, Artist, New Media, Immersive Art Installations; David Becker, Vice President, Film Director, Documentary Producer, Fundraiser; Ian A. Holden, Vice President, Film Editor, Musician, Dancer, Digital Artist; Barry Holden, Treasurer, Architect, and Installation Designer; Ellen K. Levy, PhD, Secretary, Art/Science Media, 'Art and Complex Systems,' Writer Coeditor with Barbara Larson Science and the Arts since 1750 book series (Routledge Press); and Jon Nazareth, Assistant Secretary, Artist, Painter, Digital Video productions.
Nina Yankowitz said "Tomorrowland Projects Foundation was founded in 2017 and its award program is fortunately administered by NYFA. Our board supports projects bringing new questions and perspectives to subjects such as: the status of global warming, art/science, new media, and those adding to the feminist history dialogue. We are interested in supporting cutting-edge work from various ethnic cultures and age groups bringing their respective socially relevant issues to new audiences, and are pleased to add the 2022 ventures to Tomorrowland Projects Foundation's award roster."
Michael Royce, Executive Director, NYFA, said: "The Tomorrowland Projects Foundation Award is helping to redefine the scope of what it means to be an artist, providing funds to boundary-pushing projects that are tackling some of the most pressing issues of our day. We're thrilled to administer this grant on behalf of Nina Yankowitz and her board."
Artist Bios
Aisha Amin is a Kenyan-born, NYC-raised filmmaker. As a director, her works expand across narrative, documentary, commercial, and experimental forms to tell authentic stories built from real experiences. Her past film projects have explored and highlighted overlooked communities particularly in New York City, including formerly incarcerated mothers and communities struggling with the presence of gentrification in their neighborhoods.
She is a 2022 recipient of the NYC Women's Fund for Media, Music and Theatre. She was a recipient of the 2019-2020 Sally Burns Shenkman Woman Filmmaker Fellowship at the Jacob Burns Film Center, where she directed two short documentaries. She is also a recipient of The Shed's Open Call Fellowship. Her short film, Friday, was a Vimeo Staff Pick, and her latest film Choir, had its premiere at BAMCinemaFest 2021. Amin is also a freelance film critic and writer. Her work has been published in The Huffington Post, sister-hood-magazine, and Operation Condor. Amin is pursuing an MFA degree in Directing and Writing from Columbia University.

Skooby Laposky is a sound designer and artist based in Hudson, NY, and Cambridge, MA. Through the use of biodata sonification and deep listening techniques, Laposky creates generative real-time sound installations, musical recordings, and live performances based on the dynamics of ecosystems that are often hidden or unconsidered.
Recent projects include the public art project "Hidden Life Radio" and his ongoing site-specific project, Palm Reading, with L.A.-based guitarist Charles Copley. Palm Reading's debut location release was "Malibu: Point Mugu" on the myndstream label. Their latest release is a collection of compositions recorded in Joshua Tree National Park.
Andrew Quitmeyer, Ph.D., is a hacker-adventurer studying interactions between wild animals and computational devices. He left his job as a tenure-track professor at the National University of Singapore to start his own field-station makerspace in Gamboa, Panama. At Digital Naturalism Laboratories (the Institute for Interactive Jungle Crafts) he blends biological fieldwork and technological crafting with a community of local and international scientists, artists, engineers, and animal rehabilitators.Quitmeyer runs mobile workshops called "Hiking Hacks" in which participants develop interactive technologies in outdoor field sites. The Digital Naturalism Conference is his research's largest event, bringing together over 100 participants annually from all fields to collaborate on finding new ways of interacting with nature. All of the work is published openly for sharing and remixing. Quitmeyer and his research were also the subject of a (silly) television series called "Hacking the Wild," distributed by Discovery Networks.
Find out about additional awards and grants here. Sign up for our free bi-weekly newsletter NYFA News to receive announcements about future NYFA events and programs.