Apply Now: NYSCA/NYFA Artist as Entrepreneur Program in Ithaca, NY
Apply Now: NYSCA/NYFA Artist as Entrepreneur Program in Ithaca, NY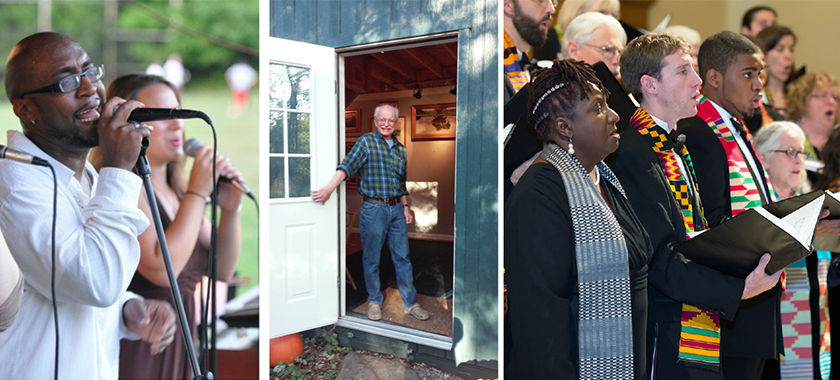 Images: Courtesy of Community Arts Partnership
Artists of all disciplines who live and work in Tompkins County, NY, are invited to join this free entrepreneurial program presented by Community Arts Partnership November 3-6.
Applications are now open for the NYSCA/NYFA Artist as Entrepreneur Program, a professional development program that will take place in Ithaca, NY, this November at the Community Arts Partnership (CAP) Artspace in the Tompkins Center for History and Culture on the Ithaca Commons, serving the Tompkins County region. The program will be presented free of charge to selected participants by The New York Foundation for the Arts (NYFA) in partnership with the New York State Council on the Arts' State & Local Partnerships program and Community Arts Partnership as part of a series of ongoing professional development programs for the arts communities in New York State.
The NYSCA/NYFA Artist as Entrepreneur Program is an intensive, multi-day in-person professional development opportunity that delves into the fundamental principles of sustainability in the arts. Content will be customized in light of the current challenges artists are facing everywhere. The program will also specifically target issues for artists located in the Tompkins County, and will be presented with this perspective in mind.
The program benefits artists of all disciplines and stages of their career who are looking to identify new ways of thinking and approaching their arts practice, while seeking a community of like-minded peers.
Featured topics will include strategic planning, finance, law, marketing, and fundraising, with additional material drawn from NYFA's popular textbook, The Profitable Artist (Allworth Press, 2018). The structure is a blend of workshops, discussions, and breakout groups. Participants will work through flexible and dynamic tools that will help to provide a blueprint for their practice and/or specific projects.
There is no charge to participate in the NYSCA/NYFA Artist as Entrepreneur Program. Artists interested in attending are required to apply, and participants are selected through a panel review process. Artists of all disciplines (Visual, Multidisciplinary, Performing, Literary, Interdisciplinary, Social Practice, Folk and Traditional, Film, Video and New Media) and career stages, including students, are encouraged to apply.
NYFA will be accepting applications from now through Wednesday, October 12, 11:59 PM EDT.
Program Dates:
Thursday, November 3: 5:00 PM–8:00 PM EDT:
Meet & Greet: Overview of Artist As Entrepreneur and Participant Introductions
Friday–Sunday, November 4–6, 10:00 AM–4:00 PM EDT:
Intensive:

Workshops and panels on strategic planning, marketing, finance, art law and fundraising
A work sample review based on each artist's application submission to the program
Individual presentations of action plans in small groups to close the program
Location: Tompkins Center for History and Culture; 110 N. Tioga Street; Ithaca, NY 14850
Attendance is mandatory to all sessions. Please check your calendar before applying.
How to Apply:
Eligibility:
Open to artists in all disciplines and career stages, including students
Artists living and working in New York State, with priority given to those residing in Tompkins County
Guidelines:
For the application we ask you provide:
Your long-term goals and why you are interested in applying to this program
A narrative bio of your professional career
A link to your website or online presence
Work samples with work statement and description
APPLY HERE
Notification: Friday, October 21
Questions regarding the application process: Contact NYFA Learning at [email protected] and include "Artist as Entrepreneur Ithaca" in the subject line.
To request an accommodation or assistance in filling out the registration form, please email [email protected]. We ask that requests for accommodation be made as soon as possible and by September 30 to allow adequate time for staff to support you in submitting an application before the deadline.
NYFA Covid Safety Protocols
NYFA requires that all participants show proof of Covid 19 vaccination and a booster shot upon entry into the space. Masks will be optional during the program.
Testimonials:
The program was everything and more, from the knowledgeable program facilitators, along with the experienced guest speakers. It was great to go through the exercises of the action plans, goal setting, work sample reviews, and group share outs. I can say with confidence all the new information and strategies that were presented will help elevate my art practice. The artists that participated in the program were all very supportive and the program encouraged those participating to network and make connections that would be helpful in reaching the goals needed for everyone's art practice.

Rosaria Bazan-Pepe, 2022 NYFA/NYSCA Artist as Entrepreneur Program
This is a great program to help you focus on your goals as a professional artist. It is well thought out and organized in a way so you walk away with focused next steps to grow your creative business. You learn from speakers who are very knowledgeable, engaging, and get you to interact with other art entrepreneurs. You also learn from your peers. It is worth the investment of time and I appreciated being part of it.

Paul Cammarata, 2022 NYFA/NYSCA Artist as Entrepreneur Program
This program is made possible through New York State Council on the Arts, State & Local Partnerships with the support of the Governor's Office and the New York State Legislature.
This program is part of NYFA Learning, which includes professional development for artists and arts administrators. Sign up for NYFA's free bi-weekly newsletter to receive updates on future programs.