Business of Art | Writers on Publishing Part 1
Business of Art | Writers on Publishing Part 1
Image Detail: Khalif Tahir Thompson (Fellow in Painting '21); "Lorraine Hansberry: To Be Young Gifted & Black," 2021; oil, latex paint, handmade paper, papyrus, graphite, magazine, newsprint on canvas
Why knowing yourself, taking your time, and finding your community may be the key to your publishing success.
There is no secret process to getting your work published. However, there are things that you can do, time-tested by other writers, that can help you along the way. NYFA-affiliated writers Alexandra Chasin (NYFA Board, Fellow in Fiction '12), Omotara James (Fellow in Poetry '20), and Ricardo Maldonado (NYFA Board, Fellow in Poetry '11 and '20, IAP Mentor) recently shared their experiences in navigating the path to getting published as part of a panel discussion organized by NYFA Learning and moderated by Brett Fletcher Lauer (NYFA Coach). Meet the writers and learn what they had to say below, in Part 1 of our "Writers on Publishing" series.
Alexandra Chasin is the author of two books of fiction and two books of nonfiction, including Assassin of Youth: A Kaleidoscopic History of Harry J. Anslinger's War on Drugs (University of Chicago Press, 2016) and Selling Out: The Gay and Lesbian Movement Goes to Market (Palgrave Macmillan, 2001).
Brett Fletcher Lauer is the author of the memoir Fake Missed Connections: Divorce, Online Dating, and Other Failures (Soft Skull, 2016) and A Hotel in Belgium (Four Way Books, 2014). Lauer is the deputy director of the Poetry Society of America and the poetry editor of A Public Space.
Omotara James is the author of the poetry collection Song of My Softening, forthcoming from Alice James Books, and chapbook Daughter Tongue, selected by African Poetry Book Fund in collaboration with Akashic Books for the 2018 New Generation of African Poets Box Set.
Ricardo Maldonado is managing director at the 92nd Street Y Unterberg Poetry Center and cohosts the "EMPIRE" reading series with Hafizah Geter. His debut book of poetry, The Life Assignment" was published by Four Way Books in 2020.
Knowing Yourself and Taking Your Time
The journey to publishing a book isn't always a straightforward one. It took Maldonado 10-15 years to complete his first book. Why? "Because I was 1) having difficulty finding my true form as a writer and 2) finding a publisher," he says. He sent the manuscript out as soon as he finished his MFA program, and initially resented having to wait so long to get his book out. However, he came to appreciate that the time enabled him to grow as a writer. He encourages writers out there to "find the form that is yours and yours alone," despite potentially feeling the pressure to publish. His initial draft was a very different book from the one that was published; as the years progressed, he kept replacing poems until, over time, he became more comfortable with himself.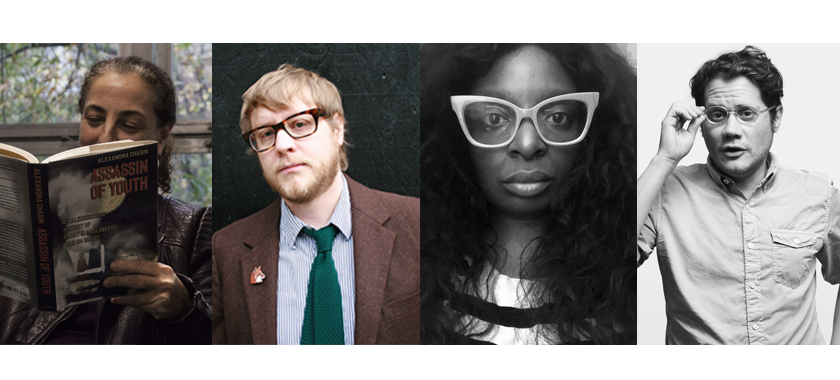 Finding and Crafting Your Community
For most of her life, James did not think about publishing. She went to college later in life, and was suddenly surrounded by her contemporaries and slightly younger writers who she says "only ever wanted to publish." At a Long Island University poetry workshop, visiting poet and editor Norman Fischer said something that has stuck with her: "'As someone who has published, just know that a lot of your publications will come from friends and recommendations and not necessarily submitting."
James says she wasn't thinking "in terms of a greater community, because I wasn't yet part of that community." For James, community has been the most important part of her journey. She found her way to it through trial and error: attending a lot of open mics and seeking more out via social media, going to conferences and virtual events (Chasin notes that book fairs are great for this too). At an open mic night at Poets House, she was introduced to Cave Canem, where she was later awarded a fellowship. By putting herself out there, opportunities and access opened up. "When you don't have that access, you have to ask, you have to put yourself out there and find out what's going on," she says.
When she finally got to her publisher Alice James, she was part of the community: writing, editing, people knowing her work and persona who solicited her work. Her greater understanding came from not just knowing how the community works, not just by getting published, but also "by introducing myself, by lifting other people up. My best advocates have been other writers and publishers," she says.
My best advocates have been other writers and publishers.

-Omotara James
Says Maldonado: "Craft your community with the same care that you take in crafting your work." He also has advice on what not to do as an emerging writer: "I've been in situations where I'm with emerging writers who are talking to me because they are expecting something from me. Don't be that person. I say that with as much candor as I can. There is a fine line between expressing interest and wanting advice and demanding something. Be kind and if you're emerging…you're there to learn and to find the people who can treat you with kindness and generosity as well. Don't see your writing as a capitalist transaction. Don't see your interactions with other members of your community as a capitalist transaction."
Craft your community with the same care that you take in crafting your work.

-Ricardo Maldonado
Sometimes, it only takes one person in your community who believes in you to make a difference. Chasin's second book publishing contract is credited to a supportive teacher in her MFA program. "He basically knew somebody who worked at Fiction Collective Two, an experimental press that does crazy fiction, so they read it there," she says. Today, the best community for Chasin comes from small writing groups where "there's an arc of really getting to know people and their writing, going granular into texts."
Interested in learning more on this topic? Read "Writers on Publishing" Part 2 for more tips and insights from Alexandra Chasin, Brett Fletcher Lauer, Omotara James, and Ricardo Maldonado.
You can find more articles on arts career topics by visiting the Business of Art section of NYFA's website. Sign up for NYFA News and receive artist resources and upcoming events straight to your inbox.
NYFA Learning provides artists, creators, students, and arts administrators with tools, strategies, and advice for building sustainable careers. We collaborate with organizations, academic institutions, and cultural partners to bring our programs to a broad range of national and international creative communities.