Conversations | Stefanie Izzo on the Art of Resiliency
Conversations | Stefanie Izzo on the Art of Resiliency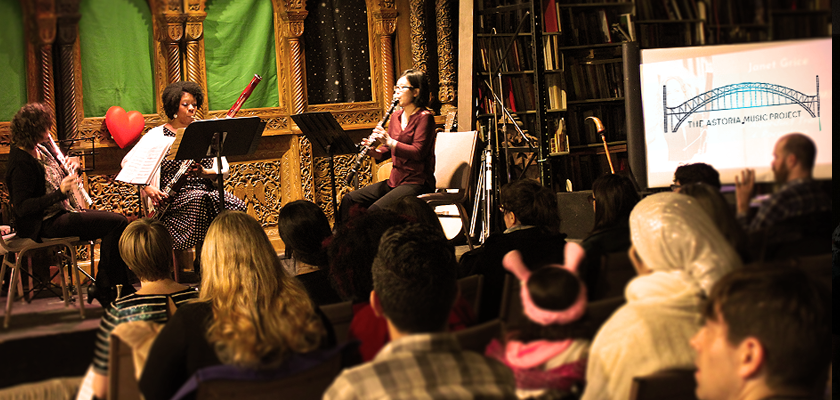 Bonnie McAlvin, Nisreen Nor, and Asuka Elias perform a piece by McAlvin at Project for Living Artists in Woodside for AMP's "Celebrating HERstory" event on March 8, 2020, Image Courtesy AMP
With in-person performances ground to a halt, Izzo evolved her creative project into digital spaces—learning plenty along the way.
Our "Art of Resiliency" series investigates the impact of the pandemic on three projects that are part of NYFA's Fiscal Sponsorship program. In Part One, we spoke with artist Angeline Gragasin about how the crisis forced her to radically reimagine Happy Family Night Market. 
Part Two of this series focuses on Stefanie Izzo's Astoria Music Project (AMP), which was founded in 2017 with the mission of bringing an accessible and exciting chamber music experience to local audiences. The project has presented various themed concerts in bars, libraries, museums, and even a drag club, mixing known composers like the Schumanns, Schubert, Chaminade, and Copland with new commissions and works by women and people of color that are woefully underrepresented on the majority of stages.
NYFA: What was your original intention or vision for your project, and how did it change during the pandemic?
Stefanie Izzo: Our 2019-20 season, titled "Music, She Wrote," focused entirely on music written by women, and three out of four of our programs were performed as intended. Our first event focused on Clara Schumann and her contemporaries. The second presented music composed by women of color in collaboration with mezzo soprano and founder of Voces Unidas Linda Collazo. Our third concert took place on International Women's Day (March 8), with music for winds and voice, at which we also included a pop-up vendor market featuring local female crafters and business owners.
Our final concert of the season was initially intended to be a pop-up art exhibition and concert at the Plaxall Gallery in Long Island City. However, with the COVID-19 crisis, it became evident that this would not be possible within 2020. In order to complete this project, which was grant-funded by NYSCA, we pivoted to an entirely digital performance.
After much planning and logistics (not to mention discussions about safety), AMP met to record four pieces of music with guest violinist Blanca Cecilia González. With the guidance of Plaxall staff, we then approached four local visual artists (all women), and commissioned works inspired by our musical performances. Each artist created an individual work in their preferred medium, including digital video, watercolor, and a light installation that responded in real time to the music's vibration. We compiled each piece into a high-resolution music video, and held two nights of "premieres" via YouTube and Facebook Live free to anyone. In addition, we held a Q&A panel via Zoom with the artists and performers that was included in the video premiere presentations, giving audiences a more in-depth look at our processes.
The music included works by Florence Price, Undine Smith Moore, Cécile Chaminade, and Rachel DeVore Fogarty. Our guest artists were Kimberly Abbott, Mafe Izaguirre, Lily Yang, and Sleepyfoot? (Manon Casimir), and our art consultant and moderator was Norma Homberg.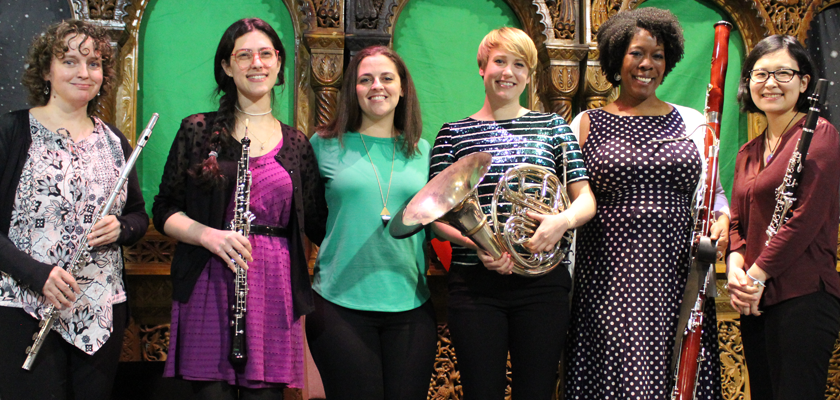 NYFA: Did you learn of any new platforms or technologies that helped you to adapt? Is there anything in particular that you did (or did not do) that helped your project survive into 2021?
SI: With our initial plan to finish our season in June and begin a new one in September 2020, we had to postpone some plans past completing our initial season. However, we were very happy with the result of our digital project, and in some ways it turned out better than what our original vision had been. We used a lot of new technology with some help from friends who are more video-editing savvy than we are (special thanks to Tito Muñoz).
We were very happy with the result of our digital project, and in some ways it turned out better than what our original vision had been.
The process of using video streaming "premieres" through platforms like YouTube and Facebook is something that we will consider as an option in the future, in order for our concerts to reach individuals outside the New York City area. We also learned that we would much rather perform for rooms full of strangers than have to record ourselves talking for video intros! It was surprising how much more draining the process of recording can be than performing, and we definitely miss the adrenaline and energy that comes from performing live.
NYFA: What does the future look like for your project? Do you have any events on the horizon that we can share with our audience?
We are lucky to have been awarded another NYSCA grant for our 2021 project presenting the work of living composers. In 2019, AMP commissioned three pieces for our ensemble by David Bridges, Brian J. Mark, and Rachel DeVore Fogarty, centered on the idea of living in and being inspired by New York City. In 2021, we will again showcase these works with additional performances in New York's various boroughs. We have also commissioned additional work for this project from Queens-based composer Beata Moon.
Fall concert dates are in the works, and we will be joined by a number of guest artists for these concerts, including violinist Blanca Cecilia González. We hope that these performances will show that chamber music is alive and well and continuing to thrive!
– Amy Aronoff, Senior Communications Officer
NYFA Fiscal Sponsorship's quarterly no-fee application deadlines are June 30, September 30, December 31, and March 31. We also accept Out-of-Cycle Review applications year-round. Reach out to us at [email protected] for more information.
Sign up for NYFA News and receive artist resources and upcoming events straight to your inbox.