Conversations | Wunmi
Conversations | Wunmi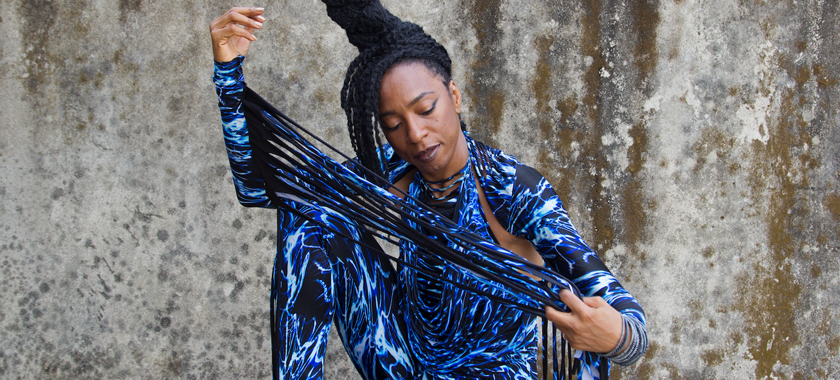 Image Detail: Wunmi, Photo Credit: Chriss Nwobu
Nigerian-British musician Wunmi on her musical influences, career trajectory, and advice for earlier-stage artists.
The music industry is one of the trickiest for artists to navigate, especially for artists hailing from a different nation. To get some insights from someone who's been there, we spoke with Nigerian-British musician Wunmi about her musical influences, career trajectory, and advice for newer recording artists. Wunmi is a 2020 recipient of the NYC Women's Fund for Media, Music and Theatre, administered by NYFA.
NYFA: Who would you consider to be some of your musical influences?
Wunmi: My first music influence was my late uncle, Victor Olaiya, who was known as the 'Evil Genius of Highlife Music' in Nigeria. I was 4 years of age when I was sent to Lagos, Nigeria, and his music was reigning. His music became the first songs I learned to sing. My style of music, however, is heavily influenced by the late great king of Afrobeat, Fela Anikulapokuti. Fela's music was the soundtrack to the images that stayed with me when I returned to London, UK at age 14.
Jazz funk maestro Roy Ayers became my unofficial fairy godfather after meeting him during one of his concerts in London. Roy understood my tone and style and invited me to record and tour with him. He encouraged me to stay true to myself. Jamaican-American singer/actress Grace Jones and British Soul singer Sade both inspired me to appreciate my own uniqueness.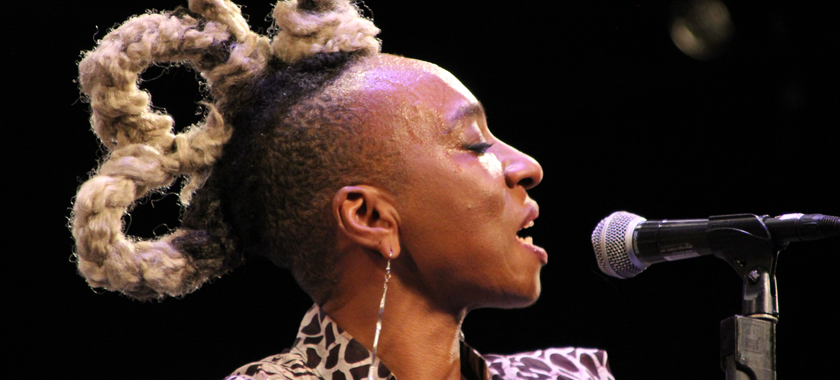 NYFA: What can you tell us about the opportunities and challenges of immigrating to a new place and continuing to make music?
W: The biggest challenge of immigrating to a new place is the feeling that you are starting from scratch. Not knowing where your community and tribe are. Learning how to maintain one's dream whilst holding down a day job.
When I moved to New York from London in 1992 to pursue my music career, I was, at the time, known as the dancer on the album cover of Soul2Soul, a UK Grammy award-winning Soul group. New York was pulsating with energy. There was music everywhere, from the house music scene to rap & hip-hop to dancehall. I went out every weekend to dance and listen to music. Afrobeat music, however, was not played out, though you might occasionally hear a DJ play Manu Dibango's song "Soul Makossa" after hours late at night.
I finally found my community when I started attending traditional West African dance classes with live drumming at the Fareta School of African Drum and Dance on Broadway and Houston. It was here that I got to meet many amazing percussionists who introduced me to clubs they would go to for jam sessions. From this moment on, things began to happen for me. I became known as Female Fela! The word got out, so when house music power house Masters At Work (Kenny Gonzalez and Louie Vega) were looking for someone to sing the lead on their tribute to Fela, my name came up and they called me. Through my collaboration with Masters At Work, I found my niche in the house music scene, which became known as AfroHouse music. It was during this period that I also got introduced to legendary Harmolodics maestro Ornette Coleman. My collaboration with him as dancer muse for his band Primetime gave me exposure to producers and promoters in the live music scene.
I was finally working and earning a living as a full time artist, collaborating with various producers to create my own music.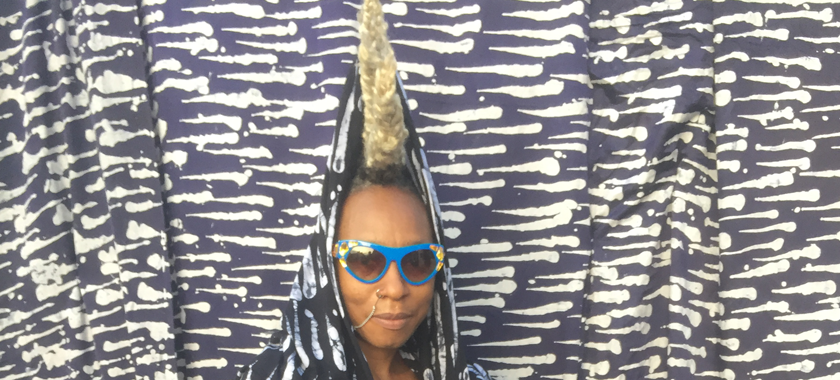 NYFA: Can you offer any advice to musicians seeking funding for their projects for the first time?
W: My advice to musicians seeking funding for their projects for the first time is to start by speaking with their friends and fellow musicians. Ask if they know of any funding opportunities while also researching online for grant programs available in their area. If they find they've missed deadlines, they should do the homework and check to see if the grants are yearly so they can plan to make it once it reopens. I also suggest finding someone who understands how to make grant applications, so the process is more efficient.
NYFA: What's something you've learned from the process of recording your music that you'd pass on to earlier-stage artists?
W: The biggest lesson I've learned from the process of recording my music is to always make sure you take care of your paperwork before you step into any studio to record. It doesn't even matter if your collaborators are your best mates or family. Everyone should sign a contract agreement confirming ownership, splits, and so on. Sadly, this is something so many artists overlook in their desire to record. I learned this the hard way.
The current cycle of the NYC Women's Fund for Media, Music and Theatre is accepting applications until November 1. The application is available on Submittable.
About Wunmi:
Wunmi is a one-off, an artist delightfully balanced between the king of Afrobeat, Fela Kuti, & dance music icon Grace Jones. She effortlessly joins the dots between Nigeria's Afro-beat heritage, New York's house pedigree, and London's jazz, broken beat and classic street soul sounds. Wunmi's music and live shows are progressive and radical, and she is always visually fresh in avant-garde fashions. As a widely recognized underground dancer in London, she became a Funki Dred icon, on the covers of albums and as featured dancer in the mega-hit "Back to Life" video of the club scene's hottest band, Soul II Soul.
The legendary Roy Ayers saw an impromptu performance and recognized her unique and authentic fire. He brought her to the stage and studio as a star singer, lauding her as the next step forward in the evolving legacy of Afrobeat. Her percolating tracks are featured on Showtime's hit series Weeds and NBC's Lipstick Jungle, with radio appearances from France to Japan to South Africa. Wunmi sings in English, Pidgin English, and Yoruba, songs that inspire and challenge while they avoid typical clichés. Wunmi's explosive dance moves and her super-tight band "Slow Commotion" energize an audience into a conscious party that imbues the fractured world with new insights and irresistible vibes, even as they shake their thang on dance floors. She is an irresistible superhero of love, fighting spirit, and joy.
When the Red Hot organization commissioned an ambitious album paying tribute to Afro-beat Godfather Fela Kuti in 2002, Wunmi was top of their list. The result, a dynamite version of Fela's "Zombie," backed by Bugz In The Attic's razor sharp beats, became the big club track from the project, accompanied by some memorable live dates. The most memorable of the Red Hot and Riot live shows took place at Europe's largest multi-arts venue, the world-famous Barbican in London. Wunmi was on stage with Manu Dibago, Tony Allen, Cheike Lo, Keziah Jones, Les Numbian, and Baaba Maal, to name a few. Wunmi has also rocked festivals from Summer Stage (Sapporo, Japan), Mazawine Festival (Rabat, Morocco), Joshua Tree Music Festival (California, USA), Afrobitten (Accra, Ghana) to Big Day Out (Australia and NZ), and and toured Europe with Pee Wee Ellis and Fred Wesley as part of their 'Still Black, Still Proud' Africa Tribute to James Brown.
Wunmi's collaboration with South Africa's duo Black Motion titled "Omo Dudu" was the lead single off their award-winning album Ya Badimo. Wunmi is preparing to release her long-awaited sophomore album, Shee Mi.
– Interview conducted by Kyle Lopez, Program Associate and Editor, Con Edison Immigrant Artist Program Newsletter
This post is part of the ConEdison Immigrant Artist Program Newsletter #142. Subscribe to this free monthly e-mail for artist's features, opportunities, and events. Learn more about NYFA Immigrant Artist Mentoring Program.