Monday Motivation | Rehearse Your Pitch
Monday Motivation | Rehearse Your Pitch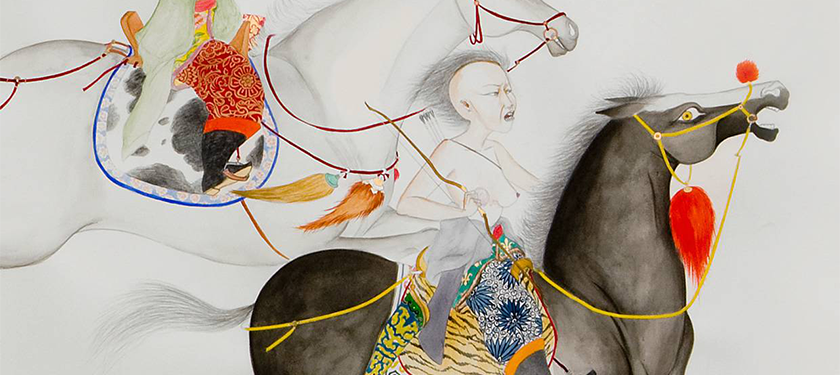 Image (detail): Fay Ku (Fellow in Printmaking/Drawing/Book Arts '09); "Woman Warriors;" 2008; Graphite, watercolor, ink on paper
Kick off your week with Monday Motivation!
Tip of the week
When networking, you will have little time to make a good first impression. Therefore, practice talking about yourself as a professional. In other words, create a pitch for yourself! First, introduce yourself, then explain what you do. Above all, tell a story. Use real-life examples that explain why you're so great! Keep it concise, because you'll want to say it all within 30 seconds. It will be difficult at first, but practicing out loud will help. Hint: it's all about the keywords you'll use, rather than speaking as fast as you can. In short, practice makes perfect.
This week's highlighted jobs:
Managing Director, Fusebox Festival
Fusebox Festival
Austin, TX
Marketing Manager
South Orange Performing Arts Center
South Orange, NJ
Studio Assistant
Vanessa Beecroft
Los Angeles, CA
Executive Artistic Director
Celebration Barn Theater
South Paris, ME
Director of Marketing and Communications
Bruce Museum
Greenwich, CT
This week's highlighted opportunities:
Call for Papers: "Keeping the Faith: Contemporary Women Artists and Religion"
Religion and the Arts (journal)
Purchase, NY
Call to Artists: Collage as Street Art Residency
Kolaj Institute
New Orleans, LA
Call for Panels: 2021 International Sculpture Conference
International Sculpture Conference
Hamilton, NJ
Open Call for Anonymous Stories
Mallory Donen
Canada
– Mary-kate Grohoski, Sales Manager
Find more jobs and opportunities on NYFA Classifieds.
This post is part of a regular blog series, NYFA Creative Careers. Let us know what careers you'd like to learn more about by visiting us on Twitter: @nyfacurrent and using the hashtag #NYFAClassifieds.